Social Distancing Floor Stickers & Decals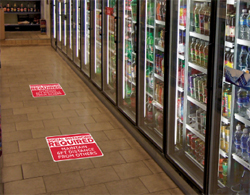 Help prevent the spread of COVID-19 with our Social Distancing Floor Stickers. These decals are manufactured in the United States from Durable Vinyl and are digitally printed with vibrant inks. The stickers feature a special adhesive backing which firmly adheres to many floor surfaces including carpet, tile, cement, and more, but does not leave any unwanted sticky residue behind when removed. We offer several stock designs of stickers, each of which are available in four sizes (12" Circles, 12.5" x 8" Rectangles, 16.5" x 12" Rectangles, and 24.5" x 5.5" Rectangles).
Our Please Keep Your Distance stickers feature a yellow and black striped design which resembles caution tape. The bright colors which are already associated with "caution" are a great way to grab people's attention so that they are alert and actively working to maintain a safe 6ft distance from coworkers and employees.
The Social Distancing Required Red Floor Stickers feature a vibrant red design with a message which specifically alerts and instructs people: "Social Distancing Required...Mantain 6ft Distance From Others".
Our Thank You For Practicing Social Distancing Blue Floor Stickers feature a softer bluer color which coordinates with the colors of many companies. These stickers are printed with the message, "Thank You For Practicing Social Distancing...Please Keep at Least 6ft Apart."
Over the past several months, COVID-19 has spread throughout the world resulting in a global pandemic. This disease is caused by a virus, which currently has no known treatment, cure, or vaccine. Scientists are working on developing a vaccine and testing various treatments, however, developing medical interventions is a slow and tedious process that is likely to take months or years. In the short-term, epidemiological experts believe that the only way to prevent the spread of disease is by reducing the contact people have with each other. The measures being implemented to reduce contact are known as "social distancing." Experts hope that by implementing social distancing measures, we can reduce the disease rates, thus reducing the pressure on the health care system until a treatment and/or vaccine is developed.
Many state and local governments in the United States have ordered all non-essential businesses to close temporarily to prevent the spread of this deadly disease. Essential businesses, however, are still open, and as the disease rates have begun to decrease, many governments are slowly allowing other less essential businesses to re-open. Businesses which are open are working to modify their practices to reduce social contact. Specifically, epidemiological experts believe that people people should maintain a safe distance of at least 6ft from others to reduce their exposure. The 6ft recommendation applies to all types of gathering including at shopping malls, grocery stores, banks, workplaces, or any other place where multiple people are meeting in one place. This helps to reduce the likelihood of spreading disease through airborne water droplets where the virus can live and is one of the primary ways this disease is spread.
Our Social Distancing Floor Stickers are perfect for any type of business or organization that wishes to communicate with employees and customers that the safety of everyone is an important priority. Without some type of signage, people can easily fall into their normal patterns of social contact and have lapses where they forget to implement proper social distancing.
---
---
How to Apply Floor Stickers
Our floor decals are designed for use on most solid floor surfaces and feature an anti-skid laminated coating to prevent against slipping on wet surfaces. The coating on our floor decals also allows for cleaning - Our stickers are strong enough that you can mop right over them! It is important to keep the stickers clean so they will communicate your message as clearly and effectively as possible. The steps for installation are as follows:
The first step towards installing floor stickers is to ensure the surface you will be applying the sticker to is level, clean, and solid. In particular, make sure that surfaces do not have any cracks, loose grout tiles or grout, and are free from cracks, dirt, and debris. Please also ensure that your surface does not feature a non-stick silicone coating, which will prevent our stickers from adhering to your floor.
Once you have determined that your floor is suitable for our floor decals, clean the surface with a light cleaning solution to remove dirt and dry with a cloth. Make sure the cloth does not leave any lint behind. We recommend cleaning the area that extends beyond the installation spot by at least one foot on all sides just to be safe. When choosing a location, make sure that the edges of the sticker will not be located along a crack, joint, or grout line.
Now we are ready to apply the sticker! Position the sticker facing upside down and peel back the backing paper approximately 2 inches exposing the adhesive. Now, flip the decal so that it is upside up and begin adhering the sticker to the ground, while pressing the decal into the floor from the center of the edge outward. It is helpful to use a squeegee for this process to prevent the formation of air pockets. As the decal is adhered to the floor, slowly peel back the backing paper and press the sticker into the floor until the sticker is fully adhered. Installing floor stickers can be a time consuming process, so we recommend doing the application during hours when your business is closed or not busy.
How to Remove Floor Stickers
When it is time to remove the decal, gingerly pull the edge or corner of the decal from the floor at approximately a 90 degree angle until the entire decal is removed from the floor. After removal, clean the surface with a mild cleaner such as soap and water and a cloth.
Our Floor Stickers are Superior to the Competition!
Durable - Our floor stickers are constructed of long-lasting vinyl with a special laminated coating that prevents against slipping and creates a protective barrier between people's feet and the printing on the sticker so that the ink will never smear or scratch. Our stickers are resistant to moisture, heat, and cold so they will withstand even the harshest weather conditions from hot to cold and wet to dry.
Easy-to-Use - Simply peel the stickers from one of the corners for an easy-to-peel and stress free installation process. These stickers make a very bold impression, which is why we see many repeat orders.
Fast Turnaround - All of our in-stock floor stickers ship within 48 hours by UPS Ground, so you will receive your order fast! Our stickers are proudly manufactured in the United States for the highest quality and fastest turnaround times.
Spanish Language Social Distancing Floor Stickers
After frequent requests from customers, we have now added bilingual floor stickers which are printed with social distancing messages in both Spanish and English. These stickers are available in our most popular red/white design and are offered in the 12" Circle and 24.5" x 5.5" Rectangular shapes. These stickers read, "SOCIAL DISTANCING REQUIRED - SIX FEET; DISTANCIAR SOCIAL REQUERIDO - SEIS PIES."
Please Wait Floor Decals
We have now added three different designs of stickers which direct customers to "Please Wait" or "Wait Here." These stickers are perfect for a wide array of business who wish to direct customers to wait in a designated area that is at least six feet apart from other customers and employees.
Arrow Floor Stickers
We have recently added arrow floor stickers to our collection of stock designs geared towards preventing the spread of COVID-19. We offer four sizes of arrow decals which are used to direct people in 1-way traffic patterns that prevent unwanted human contact where disease can be transmitted. Many customers who operate retail stores are using our arrow stickers to mark one-way traffic down isles. Likewise, many businesses are creating circular traffic patterns through offices and other buildings to help customers and employees to maintain social distance.