Custom Self-Inking Stamps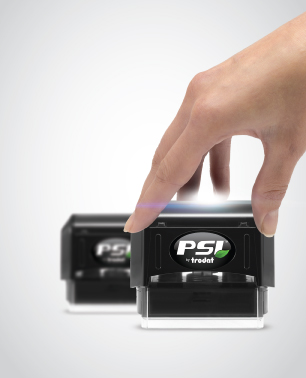 We carry a comprehensive selection of self-inking rubber stamps in 9 different popular rectangular and square sizes to meet the needs of any application. Self-inking stamps are ideal for use in creating impressions of addresses, signatures, personal monograms, business logos, dates, messages, craft projects, and much more. Our stamps can be personalized with your custom text, artwork, or a combination of both.
Self-inking stamps are constructed with a rubber die that transfers ink onto the paper to make an impression with your custom design. These stamps are perfect for applying an impression on a high volume of documents in a simple, quick, and easy-way, since they eliminate the need to manually ink the stamp. Our stamps are extremely durable and will last for many years and create thousands of impressions during their life-span. They are refillable and re-inkable with water-based ink in your choice of black, red, or blue copy, which prevents the need for replacement, prolongs the life of the product, and reduces waste.
We carry the PSI self-inking stamps by Trodat, which are the finest quality on the market. PSI stamps last 3 to 5 times longer than any other self-inking stamp on the market. The smooth, nearly silent operation produces crisp, clear impressions each and every time, and the full size index window gives the user an exact preview of the impression before they make it. PSI stamps are good for 2 times the number of impressions of other comparable stamps and can be re-inked for thousands more.
We have been selling customized premium self-inking stamps in the automotive market since 1982, however, with the advent of the internet, we are now providing these useful stamps across an array of industries including businesses, schools, organizations, non-profits, and much more. If you need assistance in making your selection, please reach out to use by phone, email or chat. We are looking forward to helping bring your message to life with one of our durable stamps!
---
---