Custom Dealer Document Folders & Glove Box Folders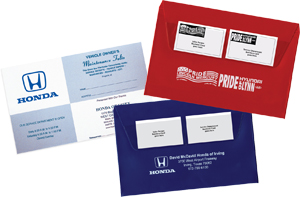 We carry a comprehensive selection of custom printed document folders including personalized Paper Document Folders and Deluxe Vinyl Document Folders designed to meet the needs of new and used car dealerships, auto repair shops, motorcycle dealers, ATV dealerships, RV dealers, auto glass Shops, boat dealerships and much more. Dealerships distribute document folders to their customers to hold the various documents and paperwork pertaining to the sale of a vehicle. These folders are often stored permanently in the glove box of the vehicle and as such are sometimes referred to as "Glove Box Folders." Automotive service companies provide customers with document folders to hold important documents pertaining to the service of their vehicle. The folder is given to the customer and is usually printed with the name, logo, phone number, and address of the dealership. These folders are custom imprinted with your company name, logo phone number, website and any other important information, which keeps your name in front of customers so they think of you the next time they need to purchase a vehicle or have their car serviced. We offer document folders in an array of different shapes, sizes, and configurations, some of which are manufactured from durable vinyl and others that are constructed from high quality paper stocks. Regardless of your needs, we have an unparalleled selection and look forward to helping your automotive-related company find the ideal custom imprinted folder for your application.
---
Paper Document Folders
We offer a comprehensive selection of paper document folders (glove box folders) designed to meet the needs of auto dealerships, motorcycle dealers, RV dealers, ATV dealerships, auto repair shops, auto glass repair centers, and tire shops. These folders hold important paperwork pertaining to the sale of and ownership of a vehicle and keep your dealership's name in front of vehicle owners for the duration of their ownership of the vehicle. This helps to encourage long-term repeat business. Our paper document holders are constructed from your choice of durable card stock and then personalized with your company information. These folders offer an affordable price and a prestigious look, making them are our most popular style of imprinted document folders. These folders are offered in a standard and expanded variety that measures 9-7/8" x 6" and are also available in a smaller size that measures 4-1/2" x 10-1/4". The standard version is the most popular, while the expanded variety is the best choice when you require the folder to hold a lot of documents. The smaller 4-1/2" x 10-1/4" size folder is designed to hold trifold 8-1/2" x 11" letter-sized sheets and is also a popular choice.
Customized Pre-Designed vs Fully Custom Document Folders
Customized Pre-Designed Document Folders - We offer many different predesigned document folders, which are oriented towards different automotive industries including auto dealerships, motorcycle dealers, automotive service companies (tires, auto glass, general auto repair), RV dealers, ATV dealers, Boat Dealers, and more. These customized pre-designed folders feature a stock imprint that cannot be changed, plus one or more panels which are fully customizable with your company name, hours, logo, and other personalized information. The predesigned folders are offered at a lower cost compared to the fully customized folders.
Fully Custom Document Folders - If none of our standard designs are suitable for your business, we can custom print our document folders in any of the three sizes/configurations with a totally custom imprint using any of our vibrant imprint colors. Fully custom document folders are slightly more costly compared to using one our customized pre-designed options.
---
Deluxe Vinyl Document Folders
Our custom imprinted vinyl document folders are constructed from durable flexible vinyl and are personalized with your company logo using a hot stamping process - choose from our 23 vibrant hot stamp foil options! These are our most durable folders and offer a higher perceived value compared to paper folders. We offer three style of vinyl folders; The first style is our Standard Vinyl Document Folders which are offered in 7 colors. If you require more storage space, consider on of our expanded folder options. The first expanding option includes 1-1/2" gusset on the bottom, allowing for more storage of important documents. We also offer an option without gussets, which has cutouts in the bottom to allow for expansion. All of our vinyl document folders are proudly made in the United States.
---