Night Drop Boxes, After Hours Car Key Drop-Off Boxes & Envelopes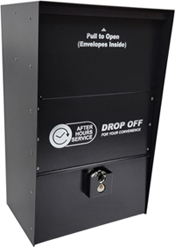 We are the designer, manufacturer, and direct source for the Deluxe Self Contained Night Drop Box, which is the highest quality, most durable, and most secure after hours key drop box in the automotive industry. This enables us to offer the highest quality product at extremely competitive direct pricing. Our Deluxe Self Contained Night Drop Box is manufactured from durable 16 gauge steel sheet metal and is finished with an attractive and hard-wearing textured black powered coating. The product is assembled with the highest quality 304 stainless steel rivets, hardware, and hinges to create a resilient unit that will last for many years of daily use in the outdoor elements. The Deluxe Drop Box features a rugged 2.75" tamper-resistant 304 stainless steel discus lock, which is fully encased in a sheet metal holder, effectively minimizing shackle exposure and making this Early Bird/ Nigh Owl drop box extremely secure. The lock also features a solid brass tumbler with a 5-pin pick-resistant cylinder and comes with 2 keys. This is self-contained unit meaning that there is no need to cut a slot into your door or building. With the Deluxe Night Drop Box, customers' keys are stored inside of the unit for retrieval by the authorized personnel of the automotive service business. This product can be mounted on the side of your building or can be mounted on our 36" in-ground post or the 24" surface-mount post (The posts are sold separately). The 36" in-ground post is used when installation into a grassy or dirt area is required, whereas the 24" surface mount post is used when customers want to bolt the post into an existing level concrete surface. This unit is offered in our standard printed variety, which features an attractive design screen printed on the front with the most durable oil-based inks. We also offer a version of an unprinted drop box, which allows for your dealership to add a custom design to the front with a vinyl decal. This is the most popular car key drop box sold on the market and has become an industry standard!
In addition to our popular deluxe unit, we also offer our standard after hours key drop-off box which must be installed into the side of your building or on a solid door. With this unit, you must cut out a slot into your door or building that is aligned with the slot in the unit. The product is ideal for those who are looking for the added security and convenience of having the night drop box installed into the building.
Car key drop boxes are an important feature of any auto dealership service department, auto repair shop, or auto body shop. They offer the ability for customers to drop off their vehicles after hours. This is extremely important as many customers work during normal business hours and need a way to drop off their vehicle when your business is closed. Moreover, sometimes customers' vehicles will break down in the middle of the night and they will need to be towed to your location where they will need a way to drop off their keys. In the current Covid-19 environment, many customers also prefer the contactless service that is afforded by the use of a night drop box. With our extremely competitive pricing, just one new customer can pay for the cost of the unit!
Each of our drop boxes are designed to be used with night drop box envelopes. Night drop envelopes feature spaces where customers can write their personal information as well as a description of the service or repair required. We are a direct source for night drop envelopes, which are manufactured to our exacting specifications and feature a unique and attractive reflex blue imprint. Our envelopes feature a moisture-activated gummed seal at the top and are appropriately sized so that they are large enough to fit car remotes, yet small enough to fit through the slot on drop boxes. We offer the envelopes in our stock variety or imprinted with your company name and contact information at the top in your choice of black, blue, green, or red ink. Regardless of your needs, MBR Marketing, Inc. is the leader and offers the most comprehensive selection of after hours drop boxes and envelopes. If you need assistance, please reach out to us by phone, email, or chat and we will be happy to help find the best solution for your application.
---
---
Night Drop Box Envelopes
Ensure that your auto dealership service center or auto repair shop is stocked with the required Night Drop Box Envelopes to cater to night owls and early birds! We carry a comprehensive selection of stock and custom printed Auto Repair Night Drop Envelopes, which are a consumable product that is used by auto dealer service departments and auto repair shops to receive customers' car keys and the information regarding the required service outside of the normal hours of businesses operation, such as early in the morning or late at night. This is an important service for auto repair shops and dealership service centers to offer so that they can cater to customers who work jobs at odd hours or whose cars break down at a time when the service center is not open. Our envelopes are manufactured from durable 24 lb. white woven paper stock and feature a moist seal gum flap. Customers can simply fill in the details of their required service as well as their personal information on the outside of the envelope and then insert their keys into the envelope, seal the envelope, and drop the envelope into the night drop box. Our stock message Early Bird Envelopes work for most customers, however, we can also custom print the After Hours Key Drop Envelopes with your dealership's custom message including your logo phone number, and anything else required.
Superior Engineering & Packaging
Our Deluxe Night Drop Boxes have been carefully engineered with an emphasis on security, durability, and smooth operation. During the engineering process, we paid meticulous attention to every detail on this product including the rivets, hardware, hinges, powder coating, screen printing, and the overall smooth operation of the top and bottom doors. You will find that our unit features a unique anti-friction Teflon (PTFE) insert on the upper door to ensure smooth operation for many years to come, while the bottom door is constructed using an extremely durable and smooth-operating hinge.
Our attention to detail continues through to the packaging. We utilize an extremely secure and protective corrugated cardboard box which is reinforced with very thick honeycomb padding around all sides plus very strong edge protectors along all the edges. The packaging is engineered to weigh under 50lbs, meaning the overall weight does not exceed UPS's threshold for an oversized package, thus making the product as economical to ship as possible.
Night Drop Boxs for Real Estate Agents
Many real estate agents throughout the United States and Canada utilize our Deluxe Night Drop Box as a secure an convenient way for customers to drop off keys and checks at their office after business hours. This provides added convenience for both customers and the real estate agents, especially in the post-covid environment where most companies are operating with fewer retail hours and fewer employees. Our night drop boxes can also be used by real estate management companies to allow for customers to drop off keys and payment for rental properties and apartment complexes.