Custom Dealership License Plates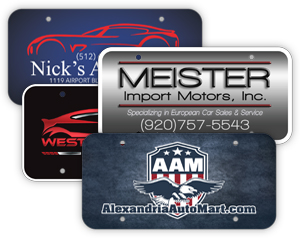 We offer an array of different Custom License Plate materials, thicknesses, and printing techniques to suit the needs of many different applications. Our goal is to offer the most comprehensive selection of imprinted license plates at the most competitive prices possible.
When you require more than one imprint color on custom license plates, digital printing is the most cost effective option. With digital printing, there is no limit to the number of imprint colors - we can even print high resolution photographic images and complex shading patterns at no additional cost. All of our digitally printed plates are finished with a clear coat to protect the image from the environment and to make the imprint "Pop". Digital printing requires no screens or plates, so there is no setup charge.
Screen printing offers the most vibrant and durable imprint and is the best choice for any plate with one solid imprint color that does not have any shading or gradients. Screen printing is also chosen by many customers on multiple-color imprints when the quality and durability are the most important factors. Screen printing offers the most durability as well as the sharpest image quality and the most vibrant colors. A one-time setup charge is required with screen printing to prepare the screen.
Our standard screen printed and digitally printed license plates are constructed from white polyethylene and then your dealership's imprint colors are printed onto the plate. The standard plates may appear colored on the front, however, the back and edges will be white. In contrast, the Colored Resin Screen Printed Polyethylene License Plates are constructed from actual colored polyethylene resin, rather then white resin and then are screen printed with your logo or message. With this product, the front, back, edges, and internal core of the plate are all the color of the background. For example, a plate constructed from black resin will be black on the front, black and internally. We carry 10 different colors of polyethylene resin plates: Black, Dark Blue, Gray, Green, Ivory, Maroon, Medium Blue, Orange, Red, and Yellow. These plates are offered in .023 and .035 gauges.
3-D raised plastic plates are made from polystyrene and are used when customers are looking for something a little bit more impressive. These plates are custom molded with your company logo or message and are offered in a variety of colors of plastic.
Aluminum License plates are universally recognized as the most impressive as they offer the best ink adherence since they have a baked-in imprint. These are available in flat or embossed plates for applications where a high-perceived-value product is required.
Finally, cardboard plates are used when car dealerships require a 30-day temporary plate and the budget dictates that you are looking for the least expensive imprinted license plate possible. These do come with a polyurethane coating, but are not meant to last more than 30 days. Like the polyethylene plates, the cardboard plates are offered in digitally printed and screen printed varieties.
We also offer a full selection of imprinted Motorcycle plates in digitally printed polyethylene, styrene, and cardboard plates, as well as polyethylene backing plates.
We have been in this industry for over 30 years and would love to help you find the perfect license pate for your application. Please feel free to reach out to us by phone, chat, or email, and we will be happy to help your vision become a reality.
---
---
Printed license plates serve many purposes
Custom printed license plates can serve a variety of purposes. The most popular use is for auto dealerships to use as a promotional tool while the vehicle is on the lot; In states where a front license plate is not required, dealers will leave the license plate printed with their company name, logo, and information on the front of the vehicle when it is sold in the hopes that the customer will leave it on to serve as a promotional tool for the dealership. We also sell imprinted license plates for a variety of other applications including schools, historical societies, clubs, organizations, sports teams, and much more. Many schools and sports teams will purchase license plates printed with their logo/message and then sell them to supporters to raise money. Other organizations will distribute them to donors or members. A license can serve a similar purpose as a bumper sticker in promoting a cause, organization, or message that is important to the vehicle owner. When using a license plate to promote a meaningful message, customers will usually choose a plate with a higher perceived value such as an aluminum plate or a custom molded plastic plate. If you operate a fleet of vehicles, a license plate printed with your company name can also be used to easily identify your business' vehicles.
Artwork & Design Considerations
Will you be using your custom license plate with a license plate frame? If so, make sure to leave the necessary room around the edge of the plate to accommodate your frame. Likewise, if you are using a frame you would not want to have a border around the edge of your plate.
If you choose a screen printed license plate, we will require vector artwork. If you do not have vector artwork, please email us your artwork and we will evaluate the feasibility; In many cases we can convert your artwork to usable vector art for free. When ordering digitally printed plates, we can print from a very high resolution raster image such as a .png or .jpg file or a vector file. It is always a good idea to reach out to us before placing your order to make sure your art is feasible; If we have any questions about your artwork after you place your order, we will contact you before charging your account.