Car Key Tags for Auto Dealerships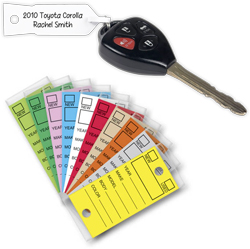 We offer a comprehensive selection of key tags for your auto dealership to help keep you organized and business running smoothly. All of our key tags are offered in an assortment of colors so that you can coordinate keys by department, model, technician, or team. We also offer a range of options including paper, plastic, numbered, unnumbered, and much more. Some of our most popular key tags are the following:
Our most popular car key tag is the Self Protecting Key Tags by Versa-Tags. These tags feature a uniquely durable design, whereby a self laminating film folds over to seal in your information and protect against smudges, water, and much more. These tags can be marked with a pen, pencil or any type of marker and are offered in 11 vibrant colors. The tags features spaces to list all of the important information about a particular vehicle including new/used, stock number, year, make, model, body, and color. We carry only the original Self Protecting Key Tags by Versa Tags, which are proudly made 100% in the United States. Beware of competitors who sell inferior imported knock-offs with low quality adhesive that does not work properly and off-colors which are not vibrant.
Consecu-Tags also manufactured by Versa-Tags and are unique patented product that combines 2 Self Protecting Key Tags with a Window Stock Sticker which are all color coordinated and identified by a unique number. The Window Stock Sticker is designed with a durable yet removable adhesive that does not leave any residue on the windshield. Once the sticker is removed, it can be adhered to the paperwork for the sale or be placed in the sales persons file. These tags are offered in six vibrant colors and are sold in sets of 125.
Our Round Cornered Poly Key Tags are manufactured in the United States by Versa-Tags and are constructed from durable 23 mil polyethylene. They are available in yellow or white with red printing. Each tag is printed with labels and fields to list all of the pertinent information about the vehicle including new/used, stock number, year, make, model, color series, and VIN. Each box contains 250 key tags, 250 chrome plated rings, and 2 black Sharpie fine point pens.
Our Self Locking Arrow Key Tags are constructed from durable 10mil vinyl which resists abrasions and tearing and is waterproof. This is the key tag of choice, when cost is the most important consideration. They are extremely popular with car dealerships, auto repair shops, automotive fleets, and much more. These tags are available in six vibrant colors, all of which can be written on with any ballpoint pen. For best results, we recommend marking them with sharpie markers.
Our Stock Key Tags an economical key tag that are manufactured in the United States from heavy duty 13 pt stock. These tags are finished with a metal eyelet on bottom and a durable fiber patch on top. These tags are available in six vibrant colors to coordinate with any sales or service department.
The Top Stripe Rigid Vinyl Key Tags are manufactured in the United States by Versa-Tags from 20 mil rigid calendared bright white vinyl and are printed with a vibrant contrasting color. The vinyl construction is extremely durable and waterproof. These are available in six colors and are sold in boxes of 250 tags, 250 chrome plated rings, and two ultra fine-point black Sharpie pens for marking the tags.
We offer many options of stock key tags to meet any automotive application. If you need assistance making your selection, we are here to help you by phone, email, or chat.
---
---
Uses for Automotive Key Tags
The primary use for our key tags is by the sales and service departments of auto dealerships. Sales departments use the key tags to identify and keep track of vehicles for sale on their lot, while service departments, auto repair shops, auto detail shops, and body shops utilize our tags to organize keys for the vehicles that are currently in their shop. Other industries that find good use for our key tags are real estate agents, developers, and real estate management companies who will often use key tags to keep track of and organize all of their keys, whether they be for rental properties or homes for sale. Likewise, car rental businesses and companies who operate a fleet of vehicles also utilize key tags to maintain control of their keys.
Premium Made in USA Quality
We carry the versa-tags brand key tags which are Made in the United States from premium quality components. Versa Tags invented and patented the original self laminating key tags, which solved the problem that car dealership employees often neglected to put the plastic covers on key tags since it was an inconvenience. The result is that the key tags would deteriorate due to grease, dirt, and grime. Several years ago, after the patent expired, many companies began knocking off the original product with inferior quality products from China. Specifically, the imported products are often manufactured with inferior quality adhesive that doesn't stick, inconsistent colors, and poor quality printing. With our key tags, you can always be assured that you are getting the original quality product that is built-to-last!
Color Coding/Coordinating with Key Tags
Many dealerships purchase different colored key tags to represent different departments, teams, or makes/models of vehicles. This is a quick an easy way to identify keys belonging to specific groups. For example, used cars may be represented by a yellow key tag, whereas new cars may be stored on a red key tag. Cars that are already sold, may be represented by a blue key tag. Use your imagination - combining different colors of key tags to signify different meanings can make organizing the keys at your dealership much easier.