Tear Resistant Temporary Tags for Car Dealerships - Blank Printable & Custom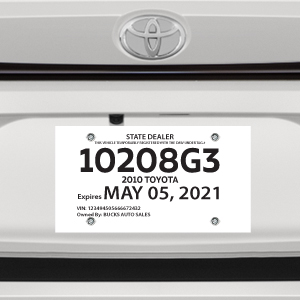 We carry a comprehensive selection of sizes and thicknesses of tear-resistant blank printable temporary tags (temporary license plates) and protective plastic holders for car dealerships. Our temporary tags are perfect for any car dealership in a state where temporary tags are required and will satisfy California's AB 516 mandate. In particular, our temporary dealer tags are used in California, Nevada, New Jersey, Texas, Washington State, and many other states. Temporary tags are typically sold to car dealerships who apply them to newly sold vehicles as a temporary tag so that the car can be legally driven until the official state plates are issued and arrive.
Synthetic Paper Tear-Resistant Printable Temporary Tags
The most popular variety of our temporary tags are constructed from printable synthetic paper, which is a plastic material that possesses many of the properties of paper, but with far superior durability and tear-resistance. Our ultra-durable synthetic paper material is totally weather-proof and grease-proof! Simply print out on the tags using a laser printer, tear out perforation(s), and attach to vehicle until official state license plate arrives. We offer two thicknesses: The popular 5 mil thickness, which is the preferred option for most car dealerships, and the 8 mil variety, which is used when car dealers are looking for the absolute thickest and most durable option. Our synthetic plastic temporary tags are sold in packages of (100) 8-1/2" x 11" sheets and the actual tags measure 6" x 11". The 8-1/2" x 11" size makes these perfect for printing on any standard laser printer or copier. Our tags are compatible with any laser printer or copier, however, they will not work with inkjet printers. We carry tags with 2 tear-off portions (top and bottom) or one tear-off portion (top only). The tear-off sections can be used as a temporary registration or filed away with other dealer paperwork.
Paper Temporary Tags
We also offer paper tags which are sold in the standard 8 mil thickness or the more durable 10 mil thickness, which is designed to last for up to 5 days. The paper tags are the most economical option for car dealerships, however, they are not as durable as the synthetic paper. We offer blank paper temporary tags or we can custom print them with your auto dealership's personalized message in black ink or we can upgrade to full color digital printing for an additional charge.
Plastic Protective Holders
We carry three different styles of plastic protective holders for temporary license plates, which are designed to protect the temporary tags until the official state license plate is issued and arrives. These holders are sometimes referred to as "Temporary Tag Plastic Covers", "Tag Bags", or "Protective Jackets." The most popular option is the License Plate Plastic Protector Bags, which are basic plastic bags that are sold in packages of 100 and are sized to fit around the tags. These bags can be folded over to prevent moisture from reaching the tag. We also offer the license plate bags with adhesive strips, which feature an adhesive strip so that the bag can be secured to prevent the elements from damaging the tag . The adhesive strip bags also include two mounting options: The first mourning option are the two adhesive strips which can be used to attach the holder to the rear windshield. The second mounting options is the 2 holes, which can be used to attach the tag to the rear of the vehicle. Finally, the premium license plate protectors are constructed from a thicker plastic material with a fold-over flap to protect the tag from water penetration.
Please Note: We can only sell temporary tags to car dealerships. We are not able to sell this product to private individuals who require a temporary license plate tag for their personal vehicle.

---
---