Custom Dealership Decals & Nameplates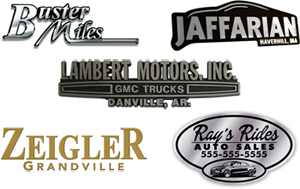 Custom decals and nameplates are designed to be used by car dealerships as a way to leave their branding on a vehicle after the sale has been made and the vehicle leaves the lot. The term, "Decal" generally refer to flat stickers like our Thermal Die-Cut Decals and Car Dealer Decals. Alternatively, the term "Nameplate" generally refers to a three-dimensional emblem that resembles the nameplates used by the auto manufacturers at the factory such as our Custom Molded Plastic and Zinc Metal Nameplates, Domecal Nameplates, and Stroke Domes. Regardless of your dealership's needs, we offer a comprehensive selection of different types of decals and nameplates to meet many different budgets and desired appearances:
Car Dealer Decals - These stickers are the best option for car dealers when cost considerations are the most predominant criteria. We offer 30 stock shapes to choose from, or you can select any custom shape including die-cut shapes up to 11 square inches at no additional charge. The materials offered are bright chrome polyester, brushed chrome polyester, white matte vinyl, white reflective vinyl, clear polyester, and yellow matte vinyl. These decals are backed with a very strong pressure-sensitive adhesive that offers long-lasting adhesion to the back of a vehicle, but can still be easily removed without leaving behind unwanted sticky residue or damaging the vehicle's finish. We offer our dealer decals with both screen printing or full color digital printing.
Thermal Die-Cut Decals - For over 35 years, we have been a leader in the development of thermal die-cut decals and have been involved with spearheading the growth of this product into the standard that is used throughout the industry. Thermal die-cut decals offer a die-cut appearance that looks like the dealerships name is painted onto the car. These die-cut stickers are constructed from 3 mil vinyl film with a permanent adhesive backing to withstand the elements. These are offered in 9 standard vinyl colors and can also be produced in premium chrome vinyl for an upscale appearance. This product is currently most popular way to identify the dealership on the back of the vehicle.
Custom Molded Nameplates - These emblems are used when the traditional nameplate look is required. These are custom molded from plastic or zinc metal with your design and are available with a standard foil hot stamp imprint or the chrome plated plastic or chrome plates zinc varieties for a high-end look. The standard plastic nameplates are finished with an adhesive strip on the back, while the chrome plated plastic and zinc nameplates include a die-cut adhesive backing that contours to the shape of the design at no additional cost.
DomeCal Nameplates - Domecal Nameplates are stickers that are printed with your auto dealership's logo or imprint and then coated with a thick polyurethane coating, which creates a three dimensional appearance and increases the fade resistance and overall durability of the imprint. This is the same product as our Car Dealer Decals, except this product features the additional polyurethane coating which seals in the graphics for added durability that will not fade. We offer our domed decals with both screen printing and full color digital printing to accommodate the needs of any dealership's logo.
Stroke Domes - Stroke Domes are hybrid between DomeCal nameplates and Thermal Die-Cut Decal. These are essentially the same as our DomeCals, but offer a die-cut look which allows for more details. Like the domed decals, these are made from a plastic film that is screen printed with your logo and then covered with thick polyurethane for a 3-D look and added protection from the environment.
Motorcycle Nameplates - We offer the Motorcycle Dealer Identification Decals which are the same as our Stock Design Dealer Cals, but are smaller sized and the Motorcycle DomeCal Nameplates which are the same as our Domecal Nameplates but also in a smaller size.
Please reach out to us by chat, email, or phone if you have any questions or need assistance in selecting the right decal for your applications. We have been a leader in selling decals and nameplates to car dealerships for over 35 years and look forward to helping you achieve find the right product for your needs!
---
---
Applying Thermal Die-Cut Decals
To apply a thermal die-cut decal to a vehicle, follow the following steps:
Remove the backing liner from the decal, exposing the permanent adhesive on the back side of the decal and the sticky side of the pre-mask.
Place the decal in position and make sure you are comfortable with the alignment. When you are satisfied with the positioning, use either a squeegee or your hands to apply firm pressure from one end to the other, forcing all air bubbles out.
Pull back the pre-mask at a 180 degree angle and slowly remove while making sure that all the letters and characters are secure on the vehicle.
Applying Nameplates
applying a nameplate to a vehicle is a bit simpler and does not require a squeegee. Simply remove the backing liner from the nameplate, and then place the nameplate into position on the vehicle. Then press firmly to secure the nameplate.
Other Applications for Nameplates
In addition to their use on the backs of vehicles, OEM manufacturers of other types of products including heavy equipment, golf carts, tractors, medical equipment, machinery, and much more will use nameplates to serve as an identifying label on the outside of their products. It is always an excellent idea to brand your products to develop an awareness and loyalty in the marketplace.