Custom License Plate Frames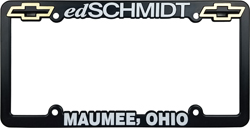 We offer the most comprehensive assortment of plastic and metal license plate frames specifically tailored towards the needs of auto dealers and motorcycle dealers. From imprinted screen printed plastic frames to 3D metal frames, we have all styles to satisfy the most astute buyer all at very competitive prices. We are widely recognized as the leader in manufacturing custom license plate frames, specializing in providing auto dealerships the lowest bulk wholesale pricing. With the advent of the internet, we are now able to connect with customers in an array of industries who are taking advantage of our unparalleled section and low pricing. In particular, we receive many orders for license plate frames from schools, clubs, sports teams, universities, colleges, businesses, automotive organizations, and much more.
Our most popular style of personalized license plate frames are our molded polystyrene plastic frames which are priced extremely competitively and offer the advantage of a raised logo/imprint which protrudes out of the frame creating a dynamic display. These frames are printed with durable hot stamping which has a very vibrant appearance. Our raised frames are available in standard polystyrene or ABS plastic which is more durable and flexible then the standard material. Screen printed plastic frames are also available which allow for more detailed printing of complicated logos however do not offer the advantage of a raised imprint, which most customers prefer.
We have several options if you are looking for a high quality metallic license plate holder. Our most popular option is our Chrome Plated Plastic License Plate Frames which are constructed with an injection molded duralast ABS frame that is dipped into chrome, coating it completely on front, back, and all sides. These frames feature a raised or embossed imprint. This frame is made overseas, so it has a several month lead time. If time is a factor, we also offer screen printed chrome plated frames which are the same chrome dipped frames, but instead of having embossed or raised copy, we domestically screen print these for a much faster lead time.
Our zinc metal frames are designed for customers with the most discriminating tastes. They are made from solid metal for maximum durability and perceived value. These frames are also imported and come with a several month lead time.
Customers looking for a raised imprint metallic-look frame without the long lead time, can order our Metallized Chrome-Faced Holders which are made in the United States. These frames feature a metallic foil that coats the front of the frame. This type of frame offers less durability than the chrome plated frames but a faster lead time.
Regardless, of the type of license plate frame you choose, our customer service representatives are here to guide you through the ordering process and help ensure that you are satisfied with the finished product. Please feel free to reach out to use by phone, email, or chat if you need assistance in making your selection.
---
Custom Auto License Plate Frames
We offer the most comprehensive selection of custom license plate frames in the industry including custom molded, ABS, screen printed, chrome plated, chrome-faced, and zinc metal imprinted license plate frames. We have been a leader in this field, providing custom license plate frames to car dealerships for over 30 years. We also provide custom frames to many online re-sellers, schools, and much much more. If you have any questions about the pros and cons of the different types of frames, please feel free to reach out to us by phone, chat, or email and we will be happy to guide you through the process so that you select the right type of frame for your application.
---
Custom Motorcycle License Plate Frames
We have taken our extensive line of quality automobile license plate frames and have made them available for motorcycle dealerships. We offer screen printed, 3-D raised molded, two types of chrome-plated motorcycle frames, and zinc metal motorcycle frames. Never before have motorcycle dealerships had such a selection all at very low prices. Please feel free to contact us today via chat, phone, or email and let us put our 30 years of experience to work for you by helping you find the perfect license plate frame for your application, timeline, and budget.
---
---
License Plate Frames Protect Your Investment
Personalized license plate frames serve as a protective cover for the license plate on the front and rear of the vehicle. They protect the edges of the license plate from being exposed to the elements such as water, ice, dirt, and debris, thus preventing against rust and corrosion. Because of the protective qualities of the license plate frame, recipients of a custom printed license plate frame are likely to install it on their vehicle for the long-run, helping to promote your message, company, organization, or brand.
An Effective Promotional Giveaway
This product is used across a variety of industries, however, the most popular use is by car dealerships. Auto dealers will typically install the custom license plate frame on the vehicle after the car is detailed. When the vehicle is sold, the license plate frame is included. The dealer hopes that the customer leaves the frame on the car to serve as free promotion to other potential customers.
After receiving the license plate frame, the recipient becomes a driving billboard for your company. As the recipient drives around town, all whom they come in contact with are exposed to the message. This makes license plate frames an important part of a car dealerships marketing campaign. The more people are exposed to your company name and message, the more familiar they become with you, and the more likely they are to turn to your dealership when it is time to purchase a vehicle.
License Plate Frames can also be custom printed with funny, meaningful, or interesting messages and re-sold. For example, we sell to several car enthusiast clubs who sell the license plate frames with the name of the club printed on them. This product can also be printed with the name of a school or sports team and then sold as part of a fund raiser or given away to supporters. License Plate Frames can be a give-away at automotive-themed trade shows by car accessory company, insurance companies, and much more. Most people in the United States own a vehicle, so a vehicle accessory like a custom license plate frame is always an excellent choice as a giveaway.
Put our Art Department to Work for You!
When you submit your order, please upload the best quality artwork available as well as detailed instructions indicating your desired imprint. For example, please indicate instructions for text, sizing, placement, logos, capitalizations, and colors for top, bottom, and sides (if applicable) of your frames. After your order is submitted, our art department review your submitted artwork or instructions. If the artwork and instructions submitted are very clear and usable, we will prepare a proof for your approval. If have we have any questions or concerns, we will contact you within 1 business day to clarify your desired imprint and layout. In general, there are two types of artwork for license plate frames:
Straight Line Text: Most customers who purchase license plate frames from us use straight line text with their company name on the top and their phone number or website on the bottom. Our art department can choose between an array of different fonts to achieve the look and feel you are aiming for to represent you organization in the best possible light. Please indicate any font preferences when submitting your order.
Logo: If you have a logo that you would like featured on your frame, please upload the artwork with your order. We require vector artwork in .eps, .pdf, .ai, or .svg format to print, however, if you have artwork in a raster format such as .jpg, .gif, .png, .tiff, etc. please submit the highest resolution version of your artwork that you have available and our art department will work to convert your artwork to a usable format. In most cases, we are able to convert your artwork to a usable format for no charge. In some very rare cases, there may be a charge, however, we will always notify you first. We always try to work with you diligently to make sure you are satisfied with the finished product.
Hang Copy
With raised plastic license plate frames, you have the option for some or all of text/logos featured on your frame to "hang" over the frame on to the plate. Your imprint can hang either from the top panel of the frame down onto the plate or from the bottom panel of the frame up onto the plate. This creates a very customized and tailored look that many auto dealerships (among other types of organizations) often feel represents their brand in a very favorable way. Please indicate any desired "hang copy" when submitting your order. Keep in mind, when opting for hang copy that you will not want the copy to "hang" over important information on the license plate. This is applicable whether you are using the frame with a state license plate or a promotional plate with your company name emblazoned upon it.
State License Plate Considerations
We offer 18 different shapes of license plate frames, which we call "styles." When choosing your license plate frame style, please take your state license plate into consideration. Some states feature important information on their license plates near the edges. It is important to choose a frame style that DOES NOT cover any important information on the plate. If important information is covered by your frame, your customers risk being pulled over by police officers for a violation. For example, if your frames will be used in Illinois, a style E or A are appropriate. In Ohio and Pennsylvania, style A or PA are appropriate, while in California, style E is a good option. If you are going to be distributing your license plate frames in all states, you should select a Style A frame, which is compatible with all 50 US-states.
Frame Colors
We carry two colors of base plastic for our license plate frames: black and white. The most popular license plate frame color choice is black plastic. We also offer white plastic frames, which are not recommended due to the potential for yellowing as the frame wears. Moreover, most customers prefer the appearance of a black frame compared to white and since the white frames are not as popular, we do not produce them as frequently and therefore the lead-time on white frames is longer than black.
We also offer chrome-plated frames which are actually black plastic ABS frames that are dipped in chrome. Chrome faced frames are also available, which are black frames that are faced with chrome-looking foil. The chrome plated frames are extremely durable, whereas the chrome-faced frames are more prone to wear-and-tear from the elements.
Imprint Colors
The most popular imprint choice is white printing on a black frame, however, we offer many different imprint colors to meet the needs of any application. If you are interested in ordering a black frame with imprint colors other then white, we recommend contacting us for guidance before placing your order. For some imprint colors, a white underlay is required in order to provide the appropriate opacity and vibrancy against the black frame (in other words, the black plastic can show through the imprint color, causing the color to be too appear too dark). The white underlay serves the same purpose as a primer does when painting. With white frames, any color can be imprinted without the need for underlays.
With screen printed frames, you can utilize multiple imprint colors that are touching, whereas, if you are interested in utilizing two or more imprint colors on a raised frame, the two colors need to have adequate separation to leave room for the dies.