Auto Dealer Window Stickers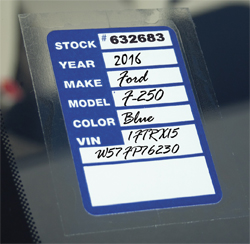 We carry a comprehensive selection of auto dealer window stickers, which are used by the sales departments of new and used car dealerships to display important information about the vehicles for sale on car lots. Dealer window stickers can be used to communicate prices, details about the warranty of a vehicle, unique identifying numbers, and much more. Common uses for window stickers are addendum stickers, buyers guides, and pricing windshield stickers. Our stickers are offered in pre-printed stock varieties, blank labels for laser printers, and we can also custom print stickers with your dealership's personalized message for use either with a laser printer or for use directly onto the window of the vehicle. Some of our most popular varieties of dealer window stickers are the following:
Addendum Stickers - Addendum Stickers are used by auto dealerships in conjunction with the manufacturer's factory window stickers to list dealer-installed options as well as no-charge items that the dealer is including with the vehicle. These forms are used to list add-ons such as extended warranty plans, special coatings or protections, and extras such as stereo systems, alarms, heated seats, remote start systems, and more bonuses that have been added by the dealer. Our most popular options are our cost-effective addendum stickers which feature tape on the top and bottom for application on the inside of the window. We also carry the "Clear Back" Added Equipment Stickers and our Paper Back Addendum Stickers which also apply to the inside of the window, but are secured from all four sides with adhesive.
Blank & Custom Laser Dealer Sticker Sheets - We carry the most comprehensive selection of custom printed and blank dealer stickers for use in laser printers in the auto dealer supply industry. Our labels are used by car dealerships to display important vehicle information and sales messaging to help close sales with prospective customers. The custom printed labels are printed with vibrant full color imagery, such as the logo and/or branding of the dealership so that the labels can then be run through a laser printer to print the rest of the details about the vehicle. The blank labels can be run through the laser printer directly and will not feature the full color messaging, but are still effective at communicating the important details of the vehicles to customers who are browsing the lot. The blank labels can be used as buyers guides, addendum stickers, and much more. We carry many different shapes, sizes, and configurations to meet the needs of any dealership. All of our labels are manufactured with a special pressure-sensitive adhesive around the edge of the label that is strong enough to firmly adhere to the window, yet can be removed without causing any damage. We carry three styles of labels: the Paper-Backed, the Clear-Backed, and the Outdoor Application stickers too meet the needs of any car dealership!
Buyers Guides - Buyers guide are forms that list the warranty and duration of coverage for the various systems of a vehicle. These forms are required by US law to be posted on all vehicles listed for sale at car dealerships. Buyers guides are typically affixed to side window of the vehicle. We carry an array of buyers guides including the popular Paper Backed Laser Window Labels and the newer Outdoor Application Laser Window Labels. We also carry the classic 2-Part Adhesive Tape Buyers Guides and the Seal 4 Buyers Guides. If you do not see the buyers guide you are looking for, we can always custom print our Dealer Laser Window Stickers to meet your needs, or you can purchase Blank Dealer Laser Window Stickers to personalize on your office laser printer.
Windshield Numbers, Slogans, & Promotional Stickers - We carry a comprehensive selection of windshield pricing, model year, and slogan stickers stickers, all of which are made from durable vinyl with an adhesive backing. We utilize a special adhesive that is strong enough to adhere to the windshield, but can still be removed without leaving any adhesive residue behind. All of our stock windshield stickers are screen printed with extremely vibrant inks. The pricing number stickers are offered in four different sizes and an all of our windshield stickers are available array of different fluorescent and non-fade color options to match the color schemes of most dealerships. Dealer slogan windshield stickers feature popular messages such as "Affordable", "Loaded", "4x4" and much more to help point out attractive features on the vehicle. Likewise, year models stickers are used to point out the year of manufacture of the vehicle for sale. If you do not see the sticker you are looking for, we can also custom digitally print our vinyl dealer windshield stickers to meet the personalized needs of your dealership.
The aforementioned list of available stickers represents only a fraction of our selection. Please browse through our products below to review our complete offering. Regardless your dealership's requirements, we have the capabilities to provide stock or custom window stickers that will meet your needs. If you do not see the sticker you are looking for, please reach out to us by phone, chat, or email, and we will be happy to help you find or customize the label you are looking for!
---
---
Custom Dealer Window Stickers
If you do not see a window sticker that will meet the requirements of your dealership, we have the capability to design and custom print the window or windshield stickers to meet the needs of your car lot. Window stickers can be used for many different purposes including addendum stickers, buyers guides, and much more. Meanwhile, custom windshield stickers are typically used for promotional messages. Our digital printing capabilities enable us to print in full color and with unlimited choices of colors. We can even print complex shading patterns and photographic images for no additional cost. Contact us today with your design ideas and let us turn your vision into reality!
Not for Sale Stickers
Not For Sale Stickers feature a yellow background with vibrant red or black writing indicating that the vehicle is not for sale. These stickers are used to meet legal requirements that vehicles that do not have a Federal Buyer's Guide is affixed may not be offered for sale. We offer several varieties of these stickers in different sizes. Some of the stickers feature a checklist that enables the dealership to indicate the reason why the vehicle is not currently being offered for sale.
"Clear Back" Window Stickers
"Clear Back" stickers are a special type of dealer windshield sticker which is constructed with a clear Mylar backing with and adhesive border around the edges. These stickers adhere to the inside of the vehicle to be seen by customers on the outside of the vehicle. To use these labels, simply peel of the backing wrapper around the four edges and then apply the sticker to the inside of the side window of the vehicle. These stickers are available with a variety of stock messages including the popular Stock Window Sticker Tickets, which include spaces to write important information such as Stock, Year, Make, Model, Color, and VIN. We also have the Added Equipment Stickers which are used as Addendum Stickers as well as many other varieties of printed and blank "Clear Back" Stickers. These stickers are often referred to as KLEER-BAK, KLR-BAK, and "Clear Back."