Windshield Pricing Number Stickers for Car Dealerships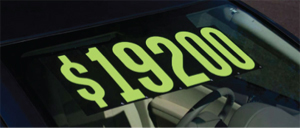 We offer our windshield adhesive number stickers in five different sizes and a range of different colors to meet a wide array of applications and to coordinate with your auto dealership's color theme. All of our windshield number decals are made from vinyl with a special adhesive backing that will adhere to the windshield for long periods of time, but can be removed without causing damage. The 5-1/2" numbers are used primarily for year models or when you are looking to understate the pricing, whereas the 11-1/2" numbers are used to draw attention to the price as they are the largest and will have the most impact. 7-1/2 inch numbers are by far the most popular and will be most appropriate for the majority of applications. The most popular color scheme is the fluorescent chartreuse & black, but we also offer the numbers in black & yellow, blue & white, blue & yellow, red & white, and red & yellow. The red & white die-cut numbers are for dealers looking for a refreshing look that appears to be hand painted. All numbers are sold in shrink-wrapped packages of a dozen.
We screen print our windshield numbers 100% in the United States with the most vibrant inks available. Our 7-1/2" and 11-1/2" windshield number stickers are printed with an exclusive arrow shading pattern that is the most attractive on the market and is only available from MBR Marketing. These stickers are used by new and car dealerships to represent prices, year models, and financing rates on the vehicles for sale on the car lot. Generally, the stickers are placed in the upper corner of the passenger side windshield to avoid visibility obstructions so that the car can be test driven.
---
---