Windshield Markers, Car Window Paint Markers for Car Dealerships
Our selection of windshield markers are geared towards the needs of auto dealers and auto body shops. Dealerships use these markers to paint the price, appealing attributes, or internal details about a particular vehicle on the windshield, while Auto Body Shops and Collision Centers often use the Autowriter markers to mark details about a particular vehicle for internal use.
The Artline Poster Markers, AutoWriter Markers, Big Glass Markers, and UNI Posca 1/4 tip markers are all made using water based formulas. The advantage of water based markers is that the pain can easily be removed from the windshield with window cleaner and cloth.
The Uni-Paint Oil Base Markers has a much longer life expectancy, however, it is slightly more difficult to remove from the windshield.
The Sakura Solid Waterproof Paint Markers have a soft consistency similar to a crayon. These are popularly used to mark vehicles at auto auctions. These will withstand rainstorms and are still very easy to remove from the windshield.
---
---
How to Write on a Car Window or Windshield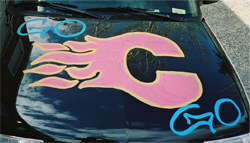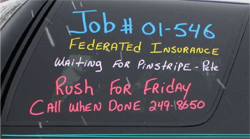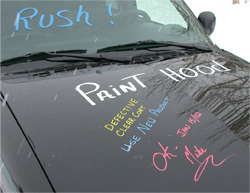 Whether you are a car dealership looking to add a year model, price, or promotional message to your windshield, or a private individual looking to celebrate a special event such as a birthday, wedding, anniversary, proposal, sports team victory, or graduation, we offer a complete selection of windshield paint and markers that are perfect for creating a dynamic and bright display on your vehicle. Messages can be painted on the front or rear windshield or the side windows of the car. Simply follow the following steps:
The first step is to clean the windshield. We recommend using a mild and non-toxic glass cleaner and a soft cloth rag to clean all dirt and debris off of the windshield. Stubborn paint can be gently scraped off of the glass using a razor blade.
Once your windows are clean, you'll need to formulate a plan for the design you'd like to create on the vehicle. We recommend sketching a scale drawing of your car's windows on a notepad or on a computer to come up with a good-looking and eye-catching design that will work well on your vehicle. You may want to think in advance about the messages that will appear on each window of the vehicle so they will all work well together.
Finally, you will need to choose the correct type of windshield marker. We offer water-based and oil-based windshield markers in several different marking thicknesses. Water-based markers are non-toxic and are very easy to remove from the windshield, while oil-based are more durable and resistant to the weather, however also harder to remove. We also offer the Sakura Solid Waterproof Markers, which work like a crayon and are extremely vibrant, long-lasting, and durable, yet still easy to remove from the windshield.
Once you have chosen your desired windshield marker, apply the design to your vehicle outdoors on a dry day. Please allow a few minutes for the markers to dry before touching after application. We do not recommend applying windshield markers on rainy or damp days since the markings may wash away.
TIP: Our windshield markers are ideal for create vibrant and dynamic displays on the windows of vehicles. We recommend mixing and matching several colors per windshield to create a truly vibrant, dynamic, eye-catching, and good-looking display. Use your imagination and let your creativity run wild! If it doesn't look so great on the first attempt, simply wash the markings away and start over again!
Car Markers
Our water based markers such as the "Big Glass," "AutoWriter," and "Artline Poster Markers" can also be used to mark the hood or body of the vehicle. Simply wash the paint off with soap and water without causing any damage to the vehicle! This is perfect for body shops looking to highlight damage on the vehicle or for individuals looking to make a grand and colorful, albeit temporary decoration on their car.