Auto Dealership Balloons
We carry a comprehensive selection of balloons that are perfect for decorating businesses, car dealerships, events, parties, gatherings, and much more. We offer a variety of styles of balloons to meet the needs of any car dealership. Balloons can transform an ordinary room or business and create a festive, vibrant, colorful atmosphere.
Latex Balloons - We offer four different sizes of latex balloons, each of which are available in stock colors/assortments or custom printed with your company name, brand, or message. These balloons are made in the United States from the strongest latex available and can be filled with either helium or regular air to create a colorful display in your showroom. We also offer accessories for our latex balloons including car window clip holders, string, seals, clips, pumps, and more.
Reusable Balloons - Our seamless reusable balloons are constructed from a proprietary PVC blend which is guaranteed not to sag, fall flat, or fade for 3 months. We offer reusable balloon hardware configurations which include clusters, single poles, car window bracket kits, and fence bracket kits. We carry 18 vibrant reflective pearlized colors all of which feature UV inhibitors and flecks that glisten in the light. Our standard reusable balloons are 17" diameter, and we offer a jumbo version that measures 27" diameter. These balloons offer the traditional look of balloons, however last much longer without maintenance, and offer a tremendous cost savings since they do not require helium. You will find that our seamless reusable balloons are much more vibrant and durable than our competitors who sell inferior seamed balloons which are essentially beach balls that leak, sag, fade, and fall flat. Our balloons are supported by the industry's best guarantee.
Giant Cloudbuster Balloons - We offer giant balloons in two different sizes which are perfect for flying in front of your car dealership to attract customers from a distance. Our most popular size jumbo balloons are the 65" diameter balloons which are constructed from chloroprene and are displayed using a 100ft rope with optional attached pennants. We also offer an even larger 8ft balloon. These giant balloons require helium and usually only last for about one day, however, create a large impact on prospective customers.
Air Dancers - We offer our wacky waving air dancer inflatable guys in three different sizes: 6ft, 10ft, and the most popular 20ft size. This product is constructed from parachute-like material and attaches to a blower. These tube dudes are ubiquitous with car dealerships and are well known to attract tremendous attention with their mesmerizing movements. We offer all three sizes and 10 different vibrant colors to match the color scheme for almost any business or holiday. The most expensive investment of the air dancers is the blower, however, once you own the blower, simply replace the attachments whenever they wear out or when you desire a new color to create an eye-catching display at a very affordable cost. Our sky dancers are printed with a face and feature streamers on the top of the head which look like hair and on the ends of the arms which create the appearance of wiggling fingers.
---
Air Dancers
Air Dancers are an eye-catching inflatable promotional tool that are offered in 10 vibrant colors and three different sizes to meet the promotional needs of any application. These big inflatables offer vibrant colors, enticing movements, and a massive size that is sure to attract attention to your business!
More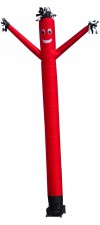 Giant Cloudbuster Balloons & Accessories
We offer giant 65 in. cloudbuster balloons, with attached streamers to create a truly dynamic and eye-catching display that will attract new customers to our business. If you are looking for something even larger, consider our enormous 8 ft. balloons.
More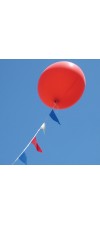 Latex Balloons & Accessories
We offer a complete selection of Latex Balloons & Accessories including 4 different stock sizes of latex balloons, custom printed latex balloon options, as well as all of the necessary accessories to create a dynamic, colorful, and exciting balloon display at your dealership or business!
More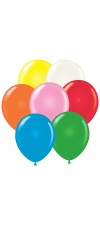 Reusable Balloons
Our reusable seamless vinyl balloons are offered in 18 vibrant pearlized and reflective colors and come with an exclusive 3 month guarantee that is unmatched by the competition. These balloons are constructed from a unique one-piece PVC blend with built-in UV inhibitors and is guaranteed not to sag, fall flat, or fade!
More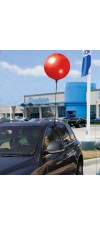 ---
Balloon Decor Colors
Choosing the correct balloon color scheme can totally transform a room or event. Red/White/Blue color schemes are popular for celebrating patriotic holidays such as the 4th of July, Memorial Day, and labor day, while pink balloons are commonly used to decorate for October, which is breast cancer awareness month. During the Holiday Season, dealerships will often choose red, green, silver, white, and gold balloons that coordinate with the colors of Christmas to create a merry and festive environment. During the holiday season, balloons are often used to complement other decoration items in the showroom such as car bows. During the fall, harvest colors such as orange, brown, and yellow are often used. When no particular holiday is being celebrated, we recommend decorating with either your company colors or an assorted arrangement of balloons that works well all year round!
Quality Latex Balloons
We carry the finest quality premium balloons which are the premier quality latex decorator balloons. All of our latex balloons are proudly made in the United States. These balloons offer long necks which are easy to tie, round and consistent shapes, vibrant colors, premium quality latex, and the durability to be able to hold air or helium for the maximum amount of time possible, compared to lesser balloons, which are often imported.