Reusable Balloons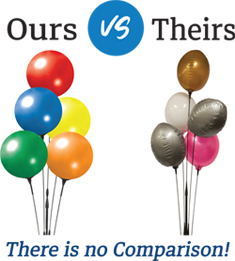 Our reusable seamless vinyl balloons offer a similar eye-catching look to traditional latex balloons, however last much longer and offer tremendous savings since no helium is required. Latex balloons fall flat within days, whereas, our exclusive one-piece vinyl balloons maintain their appearance for months with minimal maintenance.
Our exclusive balloons are constructed from a proprietary blend of PVC polymers with metallic flecks embedded to give them a vibrant and reflective appearance. They feature a unique seamless design which makes them the most weather-resistant reusable balloons on the market. These one-of-a-kind inflatables are weatherproof and will not become saggy or deflated in the winter like traditional seamed reusable balloons such as Balloon Bobber, Balloon Gizmo, and other generically branded seamed reusable balloons, which fall flat. Moreover, compared to the DuraBalloon, our reusable balloons feature a superior PVC blend, which contains a proprietary pigment formula that makes them much less likely to sag or go flat. Traditional seamed reusable balloons are constructed like a beach ball from multiple PVC panels which are heat welded together. The heat-welded areas are very vulnerable to air-loss. Our unique reusable balloon material makes our balloons the most fade-resistant, freeze-resistant, and shimmering balloons on the market. Start saving money on helium and brightening up your property today with our reusable balloons!
Exclusive 3 Month Guarantee!

Our Seamless Reusable Balloons are the finest quality on the market, constructed from a specialized PVC blend which offers superior air pressure retention compared to any other reusable balloon on the market. Our reusable balloons outlast all other seamed and seamless reusable balloons on the market. We offer 18 vibrant pearlized colors each of which reflect light and contain a carefully formulated blend of UV Inhibitor which makes them totally fade proof.
We are so confidant in our reusable balloons, that we guarantee they will last at least 3 months or we will refund your money or replace the balloon(s). If you have any issues, simply contact us and we will make it right!
---
---
Display Kits for Every Application & Industry
We offer our seamless reusable balloons with an array of different hardware options including cluster sets, single pole sets, car window sets, and light pole sets. Our Seamless Reusable Balloons can be used across a variety of industries, but are particular popular in the real estate industry and for use by car dealerships. Additionally, our balloons are used at birthday parties, and by a variety of retail stores such as vape/smoke shops, restaurants, pawn shops, and much more. Reusable balloons can be used anywhere that traditional latex balloons are used; use your imagination!
Car Window Sets - Auto dealerships frequently decorate their entire lot with our Reusable Balloon Car Window Kits to create a welcoming and attractive appearance. Our clip-on window hardware is made from heavy duty injection molded plastic, and easily connects to our strong yet flexible fiberglass stems with an easy twist. The flexible fiberglass stems move about in the wind like a latex balloon string would, making it difficult to tell the difference from a distance. When you need to test drive a vehicle, simple remove the balloon and stem with an easy twist. Buy one set to highlight a featured vehicle or decorate your entire lot!
Light Pole Sets - Our Reusable Balloon Light Pole Kits are comprised on four seamless reusable balloons and the associated hardware that is needed to create a dynamic display on the light poles outside of your business. Car Dealerships will often decorate every light pole on their lot to create a colorful and attractive display that bobs in the wind.
Single Pole Sets - Our Single Pole Kits are comprised of one seamless reusable balloon, which is mounted on a long pole set that stands 41 inches tall. These balloons have no seams, and therefore will last outdoor for a much longer time then competing seamed balloons which leak air. We offer our single pole kits in both our standard 17" diameter balloons as well as our jumbo 27" diameter balloons.
Cluster Sets - We offer reusable balloon cluster sets in 5-balloon, 4-balloon, 3-balloon, and 9-balloon varieties. All of our reusable balloon cluster sets are comprised of all of the necessary balloons and hardware to create a beautiful, colorful, and long-lasting cluster bouquet arrangement. Mix-n-Match colors/messages to form the perfect display that complements your business; we offer 18 different options. Colors can be chosen to match your company colors, sports team, patriotism, season, and much more. These are a very popular item for use at apartment complexes, however, can also be used by any retail business including car dealerships, restaurants, and much more. Choose the "Ground Stake & Base Plate" for installation into the earth such as grassy areas or the "Weighted Base" option for use on solid level surfaces such as concrete, asphalt, or indoors at trade shows.
Fence Bracket Sets Our Fence Bracket Reusable Balloon Sets conveniently attach to a fence to create a balloon display. This is the best option when local ordinances do not allow for in-ground installations or when there is no suitable location for an in-ground installation.
Choosing Balloon Colors
We recommend using a mix of colors to create an eye-catching display at your dealership. For example, during patriotic holidays such as July 4th and Memorial day, consider purchasing red, white, and blue balloons to create an American theme at your business. You can also use different color balloons to coordinate with popular sports teams, your company colors, or the season of the year. Additionally, you can coordinate your balloons with other promotional items; For example, if you are using an assortment of red and white car bows in your showroom to celebrate the holiday season, consider complementing them with red and white balloons to create a cohesive color palette that runs throughout your business.
Our hardware is constructed to last, so once your purchase the mounting kits, you will only need to replenish the balloons occasionally. Each time you purchase replacement balloons, consider changing the colors of your displays slightly. When you change the colors, potential customers are psychologically forced to take a second look at your business since people will notice the subtle change in their environment.
Installation
These balloons are simply filled with air and then installed on our easy-to-assemble hardware. When you are purchasing large quantities of balloons, we recommend using our reusable balloon compressor, rather than attempting to inflate manually. Please note that our reusable balloon compressor is only compatible with our Seamless Reusable Balloons and will not work with traditional latex balloons.
Helium Free Seamless Reusable Balloons are Built-To-Last!
Our Seamless Reusable Balloons are are constructed with a plastic cap on the top of the balloon which can easily be removed and connected to a standard bicycle pump or our reusable balloon compressor to quickly fill them with air. The bottom of the balloon features a an attachment which allows the balloons to attach to the fiberglass stem holders to be used in many different applications, including in clusters, on light poles, and much more.
We carry our complete exclusive line of Seamless Reusable Balloons including kits, replacement balloons, compressors/pumps, and accessories at rock bottom prices. These balloons last an average of about 6 months before they accumulate dirt/debris which detracts from their luster/appearance and should be replaced. This makes them the longest-lasting reusable balloon on the market. If you need assistance selecting the best reusable balloon for your application, please reach out to us by chat, email, or phone and we will be happy to help point you in the right direction.