Deal Jackets for Car Dealerships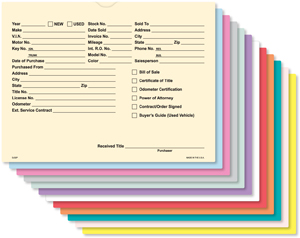 Deal Jackets, also referred to as Dealer Record Envelopes are used by auto dealerships to store all of the pertinent paperwork related to the sale or service of a vehicle. These large and durable envelopes are utilized by salesmen to keep documents organized during the sales process. Some examples of paperwork typically stored in deal jackets are sales contracts, DMV documents, credit applications, records of previous owners and work done for a particular vehicle at your dealerships, as well as other important documents which are required by some state's laws to be kept for 10+ years. Each envelope provides ample storage space for these important documents on the inside and spaces on the outside to record important information related to the deal. At the conclusion of the deal, all paperwork is stored in the deal jacket and forwarded to the clerical or financial office for recording. At this stage, some of the documents are placed into a vehicle document folder which is given to the customer or placed in the glove box for the vehicle owner to keep in their records, while the remaining documents are filed away in the dealerships records. We carry three different constructions of deal jackets, all of which are proudly manufactured in the United States, to meet the needs of any application:
Standard 32 lb. Deal Jackets - Our standard 32 lb. deal jackets are the most popular and economical choice which makes them the preferred option for most car dealers. The 32 lb. weight is strong enough to withstand the wear-and-tear of everyday use at most dealerships. These envelopes feature a thumb-cut, which makes accessing important paperwork and documents extremely easy. The most popular variety are the printed deal jackets which are printed with an array of fields and a convenient checklist of documents required for completing the transaction. We also carry this style in blank, 3-in-1 deal jackets, inventory control deal jackets for motorcycle and boat dealers, accounts payable voucher envelopes, and the color-top style. These envelopes measure 9" H x 12" W and are offered in many different color choices for color-coordination at your car lot.
Heavy Duty 100 lb. Deal Jackets - The heavy duty deal jackets are constructed from 100 lb. stock and feature a built-in 1/2" extensions. This style of deal jacket is the preferred choice by dealers who are looking for the strongest and most durable envelope possible that will hold more documents compared to the 32 lb. deal envelopes. This style of deal jacket measures 12" W x 9-3/8" H including the built-in 1/2" extension. These are offered in the printed version, blank, and used car variety, color coded option, and can also be custom printed.
Heavy 1 Inch Expandable Deal Jackets - Our 1 inch expandable deal jackets are constructed from 11pt paper stock, which is even heavier than the heavy duty deal jackets. These envelopes measures 11-2/4" W x 9-1/2" H and are the preferred option of dealerships who are looking for a deal jacket that hold a lot of paperwork and documents and is extremely durable. These are available in blank or custom varieties and we carry them in 4 vibrant colors: Blue, Green, Manila, and Yellow.
Our dealer record envelopes offer the capacity and durability to handle a large amount of paperwork. We offer several standard formats which include fields to collect data specific for new and used cars, trucks, years, as well as blank envelopes. Some of the standard fields listed are the year, make, model, VIN, address, mileage, and more. In the event that the standard fields listed on our envelopes do not meet your needs, we are also able to print custom deal jackets with the fields and information required for your business. Whether you require deal jackets for accounting, detailing, or standard envelopes for closing the sale of an automobile, we have the quality jackets to fulfill your needs. If you need assistance, please reach out to us by chat, email, or phone, and we will be happy to assist you in choosing the right dealer record envelope for your application.
---
---
Unparalleled Selection of Deal Jackets for Car Dealerships
We offer the most comprehensive selection of deal jackets to keep your dealership organized and running smoothly. Our standard deal jackets are constructed from durable heavy stock paper, and are designed to hold standard letter-sized 8-1/2" x 11" documents, and are offered in an array of colors including Blue, Buff, Fuchsia, Gray, Green, Lavender, Pink, Red, Salmon, Teal, White, & Yellow. Many dealerships choose to use different colors to color-code by year, manufacturer, sales team, or whatever works for your organization! Our selection of deal jackets includes the following products which are offered at extremely competitive pricing aimed at fulfilling the needs of car dealerships:
The most popular choice is the 32 lb. deal jacket which is offered in 12 colors and is available either blank or printed with spaces where all of the required information can be filled in by the dealer.
Our heavy duty deal jackets are produced with 100lb stock and are also offered in your choice of blank or printed and come with a 3/8 inch extension tab in lieu of the thumb-cut on the standard version.
The 3-in-1 deal jacket is a specialized variation of the 32lb deal jacket which provides all information about the sale of a new or used vehicle including reconditioning of used vehicles and a detail of cost.
The accounts payable voucher envelopes are constructed from 32lb stock and are used to organize accounts payables by vendor for easy payments.
The 1 Inch Expandable Deal Jackets are available either custom printed or blank and are used when more space is required for extra paperwork or additional items.
The Color Top deal jackets are also made out of 32lb stock with a thumb cut and are used when color-coding is required.
The Inventory Control Deal Envelopes are used by motorcycle, boat, RV, and other equipment dealers to keep organized.
Custom Deal Jackets
If you do not see the format you are looking for, we can custom print our deal jackets on our standard 32 lb., color top 32 lb., 100 lb. heavy duty, and 1" expandable envelopes. Many dealerships choose to order custom deal envelopes when they require certain fields to be printed on the jacket and none of the standard options are satisfactory. Moreover, personalized deal jackets offer the option of printing the dealership's name and logo on them or tailoring the deal jacket to another industry, such as lawn mower sales, boat sales, golf cars, or other equipment sales.