Custom Insurance Card Holders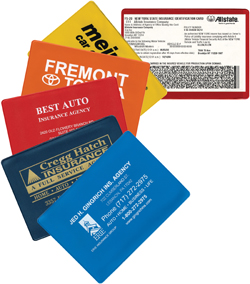 Custom insurance card holders are constructed from durable vinyl and are personalized with your company name, logo, or message. These vinyl pouches are designed to hold important documents such as licenses, registrations, ID Cards (Identification Cards), tickets, and much more. Our vinyl holders are used across many industries including auto dealership service departments, auto repair shops, insurance agencies, funeral homes, banks, and much more.
Service departments of car dealerships and auto repair shops use these holders as a promotional giveaway to customers to organize their insurance policy and registration. The dealership or repair shop's logo is printed onto the pouch to serve as a reminder of the company who serviced the vehicle. They are designed to increase the likelihood of repeat business. Likewise, insurance agencies use these as a promotional giveaway to their customers to hold their important insurance documents. In the case of an accident, the insurance agent's name is conveniently printed on the pouch so that the customer can easily get in touch with them to report their claim.
Our personalized insurance card holders are imprinted using a durable hot stamping process, which creates a vibrant imprint for a low cost. This product is a great promotional give-away item because customers actually keep them for the long run since they serve an important purpose of holding the vehicle owners documents and thus keep your business name in front of the customer for years to come. Regardless of your industry, you will find that we offer the lowest prices, largest selection, and that we are totally committed to our customers' satisfaction. If you have any questions or need assistance in choosing the correct insurance holder for your application, please reach out to us by phone, chat, or email and we will be happy to point you in the right direction.
---
---
Most Comprehensive Selection in the Industry
We offer our insurance car holders in the largest selection of sizes, styles, materials, and colors on the market:
Hot Stamp Imprint Colors: While our competitors only offer 2 or 3 foil imprint colors we offer a whopping 23 different in-stock hot stamp foil colors to match your brand, company,or organization and make the most striking impact. Imprint colors offered are: Athletic Gold, Black, Bone, Brown, Burgundy, Forest Green, Gold, Grey, Kelly Green, Light Blue, Navy Blue, Orange, Pink, Process Blue, Purple, Red, Reflex Blue, Royal Blue, Rubine Red, Silver, Teal, White, & Yellow.
Vinyl Holder Colors: We offer the most expansive selection of vinyl colors in the industry. Our most popular insurance card holder sizes are offered in 13 vibrant colors: Black, Grey, Green, Maroon, Med. Blue, Navy Blue, Orange, Purple, Red, Royal Blue, Teal, White, & Yellow. Some of our less popular styles are available in a more limited selection of colors.
Sizes: We offer 10 different sizes ranging from 5-3/4" x 4-1/16" up to 9-3/4" x 4-3/4". No other company in our industry offers such a complete selection of sizes. Some of the sizes offered have specific purposes, such as our 9-1/8" x 4" insurance card holders which are designed to fit into #10 envelopes for mailing and the 6-1/4" x 4-3/8" holders which are perfectly-sized to fit the New York State ID card. Our most popular size is the 5-3/4" x 4-1/16" policy holders which are offered in all 13 colors at extremely competitive pricing.
Pocket Options: Many of our holders are offered with several different pocket options. The pouch-style holders all have a clear pocket which covers one entire side and are often offered with an optional 2-1/2" pouch which perfectly fits a business card as well as many state id cards. Our UH8 holders come with a second 5-1/2" pouch which is designed to fit the Pennsylvania state registration paperwork. Our bi-fold insurance card holders are also offered with several options for pockets including 4 pockets, 2 half pockets, and 2 full pockets.
Short Side vs. Long Side Openings: Many of our pouch-style insurance card holders are offered with the option of the opening on the short side or long side. Some customers prefer the opening on the short side, whereby the documents are less likely to fall out, while other customers prefer the opening on the long side, where it is easier to insert and remove documents.
Hard vs. Soft Vinyl: Most of our insurance card holders are constructed from soft vinyl, which is the industry standard for this product. We also offer item #MBI818FO, which is a hard cover folding insurance card holder that is an exclusive product the we offer. The hard cover holders feature a bi-fold design and offer a higher perceived value compared to the soft vinyl holders, as well as the novelty of being something different.
Promote Your Insurance Agency, Dealership, or Auto Repair Shop
For over 35 years, MBR Marketing, Inc. has served the automotive industry, developing a reputation for the highest quality imprinted products at the lowest prices in the industry. We focus on providing bulk wholesale pricing direct to car dealerships. With the advent of the internet, we are now able to reach a range of customers across different industries and have found great traction with insurance card holders among Insurance Agencies, Banks, and many other types of organizations who appreciate our dedication to customer service, low pricing, and large selection.
Insurance holders are an essential item for insured motorists who wish to keep all of their documents organized conveniently in one place where they can easily be accessed in the case of an accident, being pulled over by the police, or for a state inspection & emissions test. Insurance agencies and car dealers both imprint their company name, logo, and phone number on the pouches, however, additional information included on the pouch will be specific to the industry. Insurance agencies for example, may include important information about what to do in the event of an accident (with respect to reporting the accident to their agent). Likewise, auto repair shops and body shops may include instructions on the pouches indicating where to take their vehicle for repair in the event of an accident. Regardless of your needs, we have the experience to personalize your insurance holders and represent your brand in a way that you can be proud of.
"At the Scene of an Auto Accident" Kits
We offer two different sizes of insurance card holder kits which are printed with instructions for what to do at the scene of an accident and a place for your logo or message. These kits also include an "Accident Report" card that allows the user to fill in the details of the accident and complete an accident diagram. These are extremely popular among insurance agents who are looking to provide their customers with helpful advice and a useful tool in the event of an accident with the added bonus of promoting the insurance agency.
Made in USA
Our personalized policy holders are proudly manufactured and printed in the United States. Compare our quality and prices to the competition, many of whom import inferior products.
Large Custom Orders & Bulk Wholesale Pricing
We specialize in offering very low prices on large quantity orders. You will find that our prices are extremely aggressive, which has helped to establish us as a leader in custom printed insurance card holders. If you are looking to place a large order and require a special size, shape, vinyl color, imprint color, or configuration of pockets, please contact us with your specifications and we will be pleased to provide you with a a quotation.