Wooden Mallet Literature Display Racks & Furniture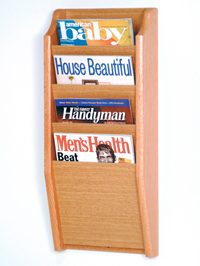 MBR Marketing is the leading distributor of wooden literature display racks Manufactured by Wooden Mallet. We pride ourselves in offering the lowest prices and very best customer service on the Wooden Mallet products, which are proudly manufactured in the United States from 100% domestically sourced materials and are designed and constructed to have a beautiful finish and lasting durability.
The Wooden Mallet product selection includes a wide range of office furnishings which are ideal for car dealerships, auto repair shops, doctor's offices, office buildings, schools, and much more. The product selection includes magazine racks, brochure display racks, chart holders, luggage racks, coat racks, reception chairs, sofas and end tables, all of which are manufactured in the United States from solid oak wood.
All of the Wooden Mallet furniture is constructed with solid oak sides and components, which provides a durable and solid product. Moreover, all of the components are pre-finished before assembly to ensure an even finish that will last for many years to come.
Most of the Wooden Mallet products ship within 1 business day from the time your order is placed and upholstered items generally ship within just 3 business days! The furniture is produced utilizing a cutting-edge lean manufacturing process that keeps the costs low and allows for fast turnaround times. After your order is placed, your information is forwarded to the Wooden Mallet plant in South Dakota, where the products are fully assembled and then shipped out to your door by either FedEx or UPS. The centrally located manufacturing facility allows for the furniture to be delivered to most areas of the United States within one week from the time the order is placed. The products are packaged with carefully engineered and sturdy packaging to ensure the furniture arrives to your door safely and without damage.
Wooden Mallet was founded by Jim Kreber, who started his woodworking career in 1975 producing custom made-to-order bespoke furniture for local customer near his South Dakota Home. This small business evolved into what is now Wooden Mallet, which has developed into one of the leading manufacturers of office furniture and display racks in the United States. Today this multi-generational family business is run by Kreber's son, David Kreber who has continued the family tradition of manufacturing excellence.
---
---
Superior Manufacturing Technology
Wooden Mallet maintains a competitive advantage by continuously investing in production technology which helps keep product handling to a minimum, which in turn keeps prices down. Some of the innovative equipment utilized in their South Dakota manufacturing facility includes 4 CNC routing machines, a laser engraving machine, and a state-of-the-art finishing system.
The routing machines allow for incredible precision and accuracy as pieces are cut for assembly, while the laser engraving machine is utilized to customize wooden furniture with company logos or artwork. Finally, the products are finished using a state-of-the art ultraviolet light system that cures the finish, making it more durable and reducing emissions.
Environmentally Friendly
Trees gather their energy from the sun and absorb carbon dioxide from the atmosphere, which makes them one of the most environmentally friendly building materials. In fact, wooden furniture is actually carbon negative because of this process! If you are conscious of the environment, wooden furniture is the best choice.
Of course, the environmental benefits only exist if the trees are grown in a sustainable forest, which is why Wooden Mallet only uses wood products that are grown in sustained forests in the United States. The manufacturing process utilized at Wooden Mallet takes the environment into consideration to ensure that wherever possible measures are taken to reduce, reuse and recycle. Some of the environmental considerations that are taken in the production of our wooden furniture include:
All wood scraps from the production process are used as bio-fuel to heat the production plant, offices, and warehouse space, which prevents wood from being disposed of in a landfill. Not natural gas or petroleum products are used for heat at the Wood Mallet facility.
Unused wooden scraps are donated to local organizations in South Dakota for use in heating their facilities. The remained of wood chips and sawdust are used by local ranchers for animal bedding.
The packaging process utilizes only cardboard, which eliminates the need for plastic packaging such as foam.
A high-tech finishing system is utilized in conjunction with durable finishes that are waterborne high solids and CFC free, which greatly reduces emissions, is nonflammable, and odor-free.
All of the MDF, HDF, and other fiberboards used in production meet CARB regulations which use substantially less formaldehyde in their manufacturing process.
The production facility utilizes a state of the art high efficiency dust collection system, which keeps the air clean and breathable for employees.