Automotive Service Hang Tags, Car Mirror Service ID Dispatch Tags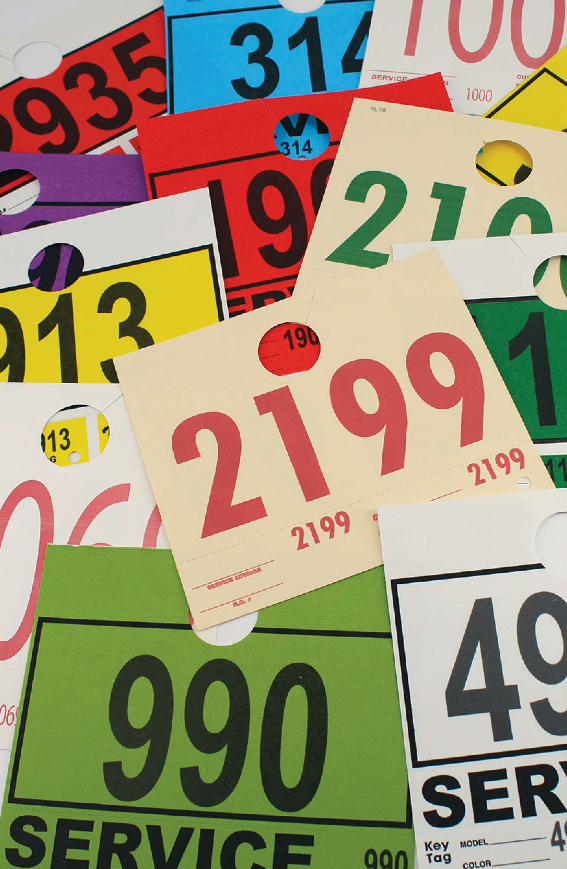 Service Department Hang Tags are used to provide a unique identification number where there is a matching number for a key tag, a claim check, and a hang for the rear view mirror of the vehicle. These dispatch hang tags serve the purpose of helping to keep your dealership's service department organized and running efficiently.
The most popular service dispatch tag is our RL78, which is made from the traditional 100lb manila stock with green copy on one side and red copy on the other side. These tags feature extra large 2-1/2" tall numbers which are easy to read. I die-cut hole with a slit is included to easily hand them on the rear view mirror of the vehicle. Each tag also includes a key tag and claim check with coordinating unique numbers to track the keys, vehicle, and important paperwork.
The 3DNR is also made from 100lb stock and comes in red, blue, green, white, and yellow. These are printed with red ink on both sides and have three-digit numbering. These are often used by dealerships when color-coding for the different service teams is required in addition to the identification numbering.
The HSSP is used when maximum strength and durability are required. These are made from 125lb stock and come in either three or four digits. They are printed with red on the front and green on the reverse side.
The 261 gives more options for colors as it is offered in 11 stock colors. These are unique that in addition to the hang tag plus two key tags, it also has a marker that can be included with the file for the paperwork. These are only one-sided.
---
---
Keep Your Business Running Efficiently
The operation of an auto repair shop or car dealership service department is dependent upon skilled labor, which is the most expensive component of any vehicle service. In accordance with this, it is important for the service manager to implement systems to reduce the amount of labor needed to complete a service. Service Hang Tags are designed to reduce the labor costs of a service by reducing the amount of time it takes to find a particular vehicle, the keys associated with the vehicle, and the paperwork for the repair. Moreover, they help keep your business running smoothly and efficiently which translates to higher customer satisfaction and more repeat business.
Made in USA Quality
All of our service hang tags are constructed and printed 100% in the United States from the most durable materials available. These tags are built to withstand the rigors of your auto dealership's service department.