Tear Resistant Temporary Tags for Car Dealerships - Blank Printable & Custom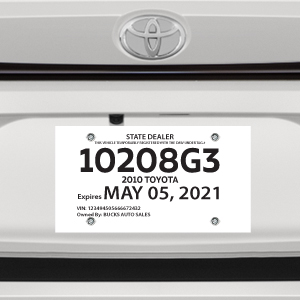 We carry a comprehensive selection of sizes and thicknesses of tear-resistant blank printable temporary tags (temporary license plates) and protective plastic holders for car dealerships. Our temporary tags are perfect for any car dealership in a state where temporary tags are required and will satisfy California's AB 516 mandate. In particular, our temporary dealer tags are used in California, Nevada, New Jersey, Texas, Washington State, and many other states. Temporary tags are typically sold to car dealerships who apply them to newly sold vehicles as a temporary tag so that the car can be legally driven until the official state plates are issued and arrive.
Synthetic Paper Tear-Resistant Printable Temporary Tags
The most popular variety of our temporary tags are constructed from printable synthetic paper, which is a plastic material that possesses many of the properties of paper, but with far superior durability and tear-resistance. Our ultra-durable synthetic paper material is totally weather-proof and grease-proof! Simply print out on the tags using a laser printer, tear out perforation(s), and attach to vehicle until official state license plate arrives. We offer two thicknesses: The popular 5 mil thickness, which is the preferred option for most car dealerships, and the 8 mil variety, which is used when car dealers are looking for the absolute thickest and most durable option. Our synthetic plastic temporary tags are sold in packages of (100) 8-1/2" x 11" sheets and the actual tags measure 6" x 11". The 8-1/2" x 11" size makes these perfect for printing on any standard laser printer or copier. Our tags are compatible with any laser printer or copier, however, they will not work with inkjet printers. We carry tags with 2 tear-off portions (top and bottom) or one tear-off portion (top only). The tear-off sections can be used as a temporary registration or filed away with other dealer paperwork.
Paper Temporary Tags
We also offer paper tags which are sold in the standard 8 mil thickness or the more durable 10 mil thickness, which is designed to last for up to 5 days. The paper tags are the most economical option for car dealerships, however, they are not as durable as the synthetic paper. We offer blank paper temporary tags or we can custom print them with your auto dealership's personalized message in black ink or we can upgrade to full color digital printing for an additional charge.
Plastic Protective Holders
We carry three different styles of plastic protective holders for temporary license plates, which are designed to protect the temporary tags until the official state license plate is issued and arrives. These holders are sometimes referred to as "Temporary Tag Plastic Covers", "Tag Bags", or "Protective Jackets." The most popular option is the License Plate Plastic Protector Bags, which are basic plastic bags that are sold in packages of 100 and are sized to fit around the tags. These bags can be folded over to prevent moisture from reaching the tag. We also offer the license plate bags with adhesive strips, which feature an adhesive strip so that the bag can be secured to prevent the elements from damaging the tag . The adhesive strip bags also include two mounting options: The first mourning option are the two adhesive strips which can be used to attach the holder to the rear windshield. The second mounting options is the 2 holes, which can be used to attach the tag to the rear of the vehicle. Finally, the premium license plate protectors are constructed from a thicker plastic material with a fold-over flap to protect the tag from water penetration.
Please Note: We can only sell temporary tags to car dealerships. We are not able to sell this product to private individuals who require a temporary license plate tag for their personal vehicle.

---
---
MBR Marketing Helps States Implement Temporary License Plate Programs
In addition to supplying temporary tags to car dealerships, MBR Marketing also works directly with State Governmental Authorities to develop Temporary License Plate Programs that addresses the challenges posed by criminals and scammers. Each state has their own governmental authority that implements the state's License Plate Program. Some of the names used by these governmental agencies include:
Bureau of Motor Vehicles
Department of Licensing
Department of Motor Vehicles
Department of Public Safety
Department of Transportation
Division of Motor Vehicles
Division of Vehicles
Driver and Vehicle Services
Driver Service Bureau
Driver Services
Driver Services & Vehicle Services
Motor Vehicle Administration
Motor Vehicle Commission
Motor Vehicle Division
Motor Vehicle Division
Office of Motor Vehicles
Registry of Motor Vehicles
Many states are working to modernize Temporary License Plate Programs to address the following issues:
Counterfeit temporary license plates are causing states to lose revenue on toll toads and in paid parking lots/spaces.
Many crimes are committed using vehicles with counterfeit Temporary License Plates.
It is too easy to purchase fake temporary license plates on the internet.
As a result of these concerns, many states are working to develop Temporary License Plate Programs that address these concerns.
How to Design and Implement a secure Temporary License Plate Program
Temporary License Plates should be printed on demand at the location where the vehicle sale takes place. Typically the transaction takes place at an auto dealership, but in the case of private sales this could take place at an auto tag retail store.
Utilize material for the temporary tags that is weatherproof, tear-resistant, and durable (avoid paper or cardboard).
Temporary Plates should be printed with a unique identifying number that is easily discernible by license plate readers.
Include a description of the vehicle (color, make, model, VIN number) and the name of the auto dealership who sold the vehicle to prevent and discourage fraud.
Utilize large and easy-to-read bold letters for the expiration date.
Include a unique barcode or QR code on each plate that can be scanned to validate authenticity.
Restrict access to the Temporary License Plate software/computer system and implement systems to restrict and track orders of blank temporary license plate material.
Implement security features such as holographic elements or metallic inks that make it difficult to create counterfeit plates.
Why Choose MBR Marketing for your state's Temporary License Plate Program?
MBR Marketing offers a large inventory of Polyester (PET) synthetic paper in both 5 mil and 8 varieties, which is the optimal choice for Temporary License Plates, since this material is tear-resistant, extremely durable, and works well with laser printers which are already in use at most auto dealerships.
We offer the most competitive pricing in the industry and are able to deliver both large and small orders of Synthetic Paper Temporary Tags in a reliable and timely manner. We offer the capabilities to die-cut Synthetic Paper Temporary Tags in any size/shape required and can also work with you to include security features such as metallic ink on the tags.
We are a family business that has been in operation for over 40 years and we strive to offer our customers an excellent customer experience. We pride ourselves in offering fast, accurate, and professional responses to customers, whether you communicate with us by phone or through email. Our longevity and size, which includes our 23,000+ square ft. warehouse means that we have the resources to fill orders large and small, but we still pride ourselves in offering the personal touch to make the development and ordering process seamless.