Air Dancers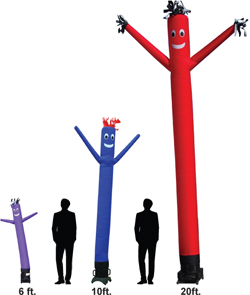 Air Dancers are an effective inflatable promotional tool that can be used in the same manner as banners and feather flags to attract attention to your business. These dancing tube men are manufactured from rip-stop nylon with a silicone coating that is sewn together into a tube with high-tensile-strength polyester thread that is double stitched on the ends for maximum durability. The inflatable sky dancers attach to a blower via Velcro. Once the blower is turned one, there is no other promotional tool quite like these, with there wacky waving movements dancing in the wind to drive attention to your location, attracting new business and sales in the process.
We offer our inflatable sky dancers in three different sizes to meet the needs of any application. In applications where there are no height restrictions, such as large open outdoor spaces, the traditional 20ft tube dude model offers the most impact and attract the most attention. For areas where there are height and space limitations including the indoors, our 6ft air dancers are the perfect solution. When price is the biggest concern, our 10ft balloon dancing model offers a very low cost while still achieving the traditional dancing wavy guy look! All of our air dancers are offered in 10 Vibrant colors: Black, Blue, Green, Orange, Patriotic, Pink, Purple, Red, White, & Yellow.
History of Inflatable Air Dancers
The air inflatable dancing sky puppets that we carry are a derivative of a product that was invented for use as part of the opening ceremonies at the 1996 Olympics in Atlanta, Goergia. These giant humanoid sky puppets were designed to mimic fabric dancing puppets which are often used as part of celebrations in the Caribbean. Since then, these inflatable dancers have evolved and been refined to be used as an attention-getting advertising tool in the form that we carry today.
To prolong the life-span of these air dancers, we recommend bringing them inside during very windy days. It is absolutely necessary to bring them inside during rainy and snowy days as water can damage the electrical components of the blower. We also advise you to keep this inflatable at least 20 feet away from the road to avoid any problems of it falling or interfering with traffic.
We offer these dynamic inflatable dancers in 10 different eye-catching colors. These are a great item whether your company is looking to announce a grand opening, a sale, special promotion or if you are just looking to get your business noticed!
---
20ft. Air Dancers
These 20 ft. tall inflatable wind dancers are the most popular size on the market. These sky puppets are available for immediate shipment in an array of bright and vibrant colors. Whether you operate a car wash, auto detailing shop, gas station, or car dealership, these large inflatables are sure to attract the attention you are looking for.
---
10ft. Air Dancers
Our 10ft. Inflatable air dancers offer the best solution for spaces with height limitations including indoors. These sky dancers work with our 12 inch diameter blowers.
---
6 ft. Air Dancers
6ft. Air Dancers are the best solution when budgetary considerations are the number one concern. These units stand just a little bit taller than the average person and are compatible with our 9 inch diameter blowers. These smaller inflatable tube men are ideal for parks, backyards, where children are mesmerized by the wacky wavy movements!
---
Air Dancer Blowers
These air dancer blowers are the perfect choice for displaying our wacky inflatable dancers. They provide the air flow needed to make your inflatable dude dance. Once you own the blower, it is simple and easy replace the dancer attachment whenever it wears out.
---
---
Inflatable Tube Man Versatility
Our Wacky Wavy Inflatable Men are a cost effective way to attract attention at a large scale. They conveniently fold up into a very small size for economical shipping, yet, when unfolded and attached to a blower, stand 20ft tall, allowing them to garner attention from a long distance. There is no other form of advertising that makes such a large and dynamic impact! Our Inflatable tube men are popular in a wide array of industries including car dealerships, service stations & auto repair shops, retail stores, gas stations, trade shows, public gatherings, sales/promotions, produce stands, mattress stores, furniture stores, flea markets, and much mmore. Our sky dancers have even been featured in music videos, movies, and on television shows. Once you invest in the blower, it is very inexpensive to replace the air dancers as they wear out or when you desire a different color. This is the perfect promotional tool that can be used anywhere where you want to draw attention!
Outdoor Advertising
Capturing the attention of prospective customers is one of the key objectives in marketing your business. When a prospective customer drives, walks, or bikes past your business, you have only a few seconds to capture their attention. These people likely pass by your business everyday and are conditioned to block you out. Air dancers work by breaking people out of this conditioning by quite simply being impossible to miss. The large size and wacky waving motion will capture the attention of even the most hardened individuals. Once they give your business a look, you have the opportunity to draw them in through the use of other signage and displays which articulate what products or services you offer.
Superior Construction & Materials
We utilize state-of-the-art proprietary material blends which offer superior performance with respect to motion and flexibility, weather-resistance and durability, and face-resistance. There are many inferior knock-off products available on the market which are constructed with lower quality fabrics that rip, fade, and fall apart. Our material is treated with UV inhibitors to resist fading and you can be sure that we carry only the finest quality inflatable dancers on the market.
Installation & Setup
Begin by placing the blower on a solid, level, stable, and dry surface. Check to make sure there are no hazards nearby that could puncture or damage the air dancer.
Place the plug into a nearby outlet to ensure that the outlet is strong enough to handle the electrical requirements of the blower. Once you have confirmed that the outlet will work, unplug the blower.
Remove the sky dancer attachment from the carrying case and unfold. Secure the attachment around the complete rim of the blower using the Velcro securing system.
Plug in your blower and watch your tube dude come to life!
Maintenance & Care
Our inflatable tube men can be cleaned in front-load household washing machines only. We do not recommend using a top load washing machine since the unit can become tangled and damaged. We recommend using a cold water cycle and mild detergent. Do not clean with bleach, which can damage the colors of the tube man. These units must be dried by air. Do not use tumble dry on your dryer as that can damage the unit.