Custom Windshield Stickers for Auto Dealerships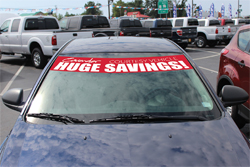 We offer the most comprehensive selection of custom printed windshield stickers that are perfect for auto dealerships looking to put a special message on the windshields of cars across their lots. Dealerships often use personalized windshield adhesive decals to promote their company name, logo, or brand messages. For example, some auto dealerships create comprehensive advertising plans whereby they will run television, radio, and print advertisements with a unique slogan that represents their dealership. Custom printed windshield stickers are a great opportunity to reinforce the brand messaging on the front of each vehicle. Likewise, dealerships will also run special promotions on certain vehicles - a personalized sticker can help to identify the particular vehicles that are included in the promotion. The uses for these are limitless - use your imagination! We offer three different sizes of custom printed windshield stickers:
Windshield Oval Stickers measure 14" x 5-1/2" and are sold in shrink-wrapped packages of 12. The minimum order is 5 packages.
Windshield Slogan Stickers measure 14-1/2" x 2-3/4" and are also sold in shrink wrapped packages of 12. The minimum order is 10 packages for this product.
Windshield Broadcaster Slogan Stickers measure 29-1/2" x 6" and are sold individually. The minimum order on this product is 50 pcs. The broadcaster slogans are the best way to make a huge impact on your front-line vehicles since the slogan is very large, running across the entire top of the windshield. Despite the large size message, test drives are still possible with these stickers since the majority of the visible area of the windshield is still left uncovered.
Die-Cut Vinyl Windshield Decals are used to promote the auto dealership name, logo, or website across the top of the front or rear windsheild. These decals are offered in any custom size to meet the needs of year dealership and can be produced from any of our 9 stock 3 mil vinyl colors: Black, Blue, Green, Matte Gold, Matte Silver, Red, Transparent, White, or Yellow.
Our custom printed windshield stickers are offered with two different printing methods:
Full Color Digital Printing - All three sizes of our custom windshield signs are available with full color digital printing. With digital printing, there is no limit to the number of colors use on the imprint. Moreover, there is no limitation of the imprint color choices as you can choose any color in the rainbow. We can even print high resolution photographic images or images with complex shading patterns.
Screen Printing - We offer the broadcaster slogans in both screen printed or digitally printed varieties. Screen printing offers the highest quality, most durable, and most vibrant imprint, however, you are limited to our selection of in-stock ink colors. Screen printing is the most cost effective option for one color imprints. If you require a multiple-color or full-color imprint, the full color digital printing is the best option.
If you need assistance in selecting the correct windshield sticker for your application, please reach out to us by phone, email, or chat, and we will be happy to help!
---
---