Full Color Digital Polyethylene License Plates
Full Color Digital Polyethylene License Plates are constructed from durable white polyethylene resin and then are printed in full color with your dealership's message or logo. Full Color Digital Polyethylene Custom Printed License Plates are a good choice when you are looking to order multiple-color imprints. We can even print complex shading patterns or photographic images at no additional cost. These plates are offered in .015, .020, .023, .030, .035, and .055 thickness polyethylene and then are printed with your design in full color. In lower thicknesses, the plates are prone to curling; As the plates get thicker, their rigidity increases and thus are less prone to curling. These plates are finished with a clear coat to prolong the life of the imprint. Since these are digitally printed, full color imprints are welcome and there is no setup charge. When a dealership is looking for a full color design our digitally printed polyethylene plates are the best choice.
Compare Our Quality to the Competition!
The pictures below are authentic photos of two digitally printed license plates with black backgrounds. The first example shows one of our full color digitally printed plates, which is coated with our complementary high gloss protective coating. The second picture shows one of our competitors digitally printed license plates, which is not coated with a clear coat. Both of the plates shown below are digitally printed with black ink, however, you will find that the license plate with the clear coat is a true black color, whereas the license plate without the clear coat is more of a charcoal gray color. Both of these photos were taken at the same time with the identical lighting conditions!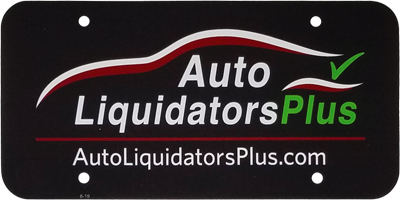 Our Digital Plates: With Clear Coat
We coat our full color digital license plates with a complimentary high gloss UV clear-coat that protects the imprint and makes the colors "pop." Compare our plates to competing products that are not clear-coated and therefore are much less durable and do not have the same vibrant imprint. To put it simply, our digitally printed license plates look better and are more durable than the competition, but are still offered at extremely competitive prices. We try our very best to communicate honestly and transparently with our customers about our products and we do not skimp quality to artificially reduce costs.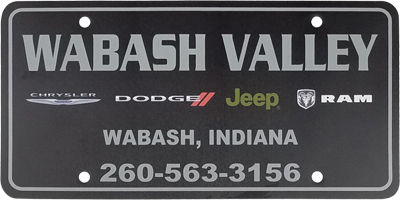 Our Competitors: Without Clear Coat
Many of our competitors sell digitally printed license plates without a clear coat as a way of reducing costs. Unfortunately, without a clear coat, digitally printed polyethylene license plates have a "washed out" appearance. Moreover, the durability of the imprint is severely compromised, making it very vulnerable to the elements. We urge you to compare our prices and quality. We are very confident that we offer the absolute best quality and value on custom full color digitally printed license plates in the United States.
---
---