Multi Point Inspection Forms for Car Dealership Service Departments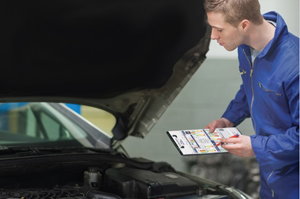 We offer a complete selection of multi point car inspection forms for use at car dealership service departments and auto repair shops. These forms are used when a customer comes in for an inexpensive service like an oil change or tire alignment. Completing a full inspection of the vehicle helps to give the customer confidence that there vehicle is in good running order, while simultaneously generating additional work. We offer several options of generic forms which offer a comprehensive checklist to ensure all components of the vehicle are working properly. We also offer vehicle inspection forms that are specifically tailored towards different manufacturers including Chrysler, GM, Honda, Hyundai, Kia, Mazda, Nissan, Toyota, & Volkswagen. These are multi-part NCR carbonless forms where there are multiple copies generated, so that each of the involved parties received a copy of the inspection. Most of our forms are offered in a stock variety, or they can be printed with your logo at the top for an additional cost.
---
---
Generate New Business and Increase Customer Satisfaction
Multi Point Inspection Checklist Forms are sometimes referred to as repair estimate worksheets. These forms are ideal for use in conjunction with any type of regular maintenance or more complicated repairs to provide customers with the peace of mind that their vehicle is in good repair. These forms are perfect for large service departments at franchise car dealerships or small auto repair shops. They allow your mechanic or technician to go through the vehicle point-by-point to ensure that all the components of the vehicle are working properly.
Customers may not come in to your shop frequently. Because of this, it is especially important to make sure their car is in good operational order when you do see them to make sure they do not have any problems. This extra touch lets customers know that you care. Thorough inspection is an important cart of proper vehicle maintenance.
Completing a comprehensive checklist on your customer's vehicles gives them the confidence that their car is in good operational order and also helps to generate new repair business. Even if the customer does not wish to make a repair immediately, they will appreciate you pointing it out to them so they are fully aware of the condition of their automobile.
Vibrant Forms Make a Positive Impression
Most of our multi point inspection forms are printed in four colors to create a vibrant and colorful presentation, which makes customers have a positive perception about the professionalism of your company.
2-Part Forms
Our multi point inspection forms are 2-part carbon-less forms. The first part is given to the customer, while the second part is kept by the auto repair shop or service department to be stored in the customers' file.
Stock or Custom
We offer our multi point inspection forms in stock or custom printed varieties. The custom printed forms are generally the same as the stock form, but printed with your company name, logo, and contact information at the top of the form. We can also print totally custom forms for you where you specify the entire layout and content of the form. Please contact us for pricing and information about totally custom forms.