24" Wide Straight Open Shelf Stackable Filing Cabinets - 2 Shelves High
Item #: OSFT24-2
Product Options
Dimensions & Specifications
Each unit measures 22-3/4" H x 24" W x 12-1/8" D
Each unit weighs approximately 44 lbs.
Open Shelf Stackable Filing Cabinets
Our Open Shelf Stackable Filing Cabinets are designed to meet the needs of any organization or business looking to store and organize color coded file folders including end tab file folders and many other proprietary filing systems. This shelving system allows file folders to be clearly visible and provides easy retrievability, making it perfect for color coded filing systems. In particular, our shelving units are ideal for use by auto dealerships and are fully compatible with the Reynolds & Reynolds ColorFile® Shelving and Filing System. Our filing system is also used across many industries that utilize color coded filing including car dealerships, medical offices, educational institutions, law offices, and much more.
Our shelving units feature a unique stackable and modular in design, allowing for a variety of custom filing storage solutions that can be configured to fit any space. The modular design means also that these units can be reconfigured at any time, making them perfect for growing organizations with expanding client lists and those companies who may be moving their filing system at some point in the future. Our units utilize vertical space to maximize file storage per square foot while keeping files within easy reach and are fully compatible with Datum, Jeter and VuMax shelving units in color and size. Use your valuable floor space more efficiently with out open shelve filing system that can be expanded or reconfigured at any time!
These units are 100% manufactured in the United States with strength and durability in mind! They feature an 18 gauge back-side made from one piece of cold rolled steel. Each side has a 20 gauge welded bottom, and each shelf has four 20 gauge welded dividers that extend the full height of the shelf. The front of each shelf has a double hem for smoothness and added strength. The top of each shelving unit is made from 20 gauge cold rolled steel and the base of each unit is constructed of 16 gauge channels that are welded and reinforced.
These units feature fixed welded dividers making them an ideal choice for Letter-sized (8.5" x 11") folder storage, which is the standard in the United States. We can also supply these cabinets in Legal-sized (8.5" x 14"), and X-Ray file sizes upon special request. Please contact us for more information and pricing for Legal and X-Ray sized shelving units.
All steel components of our shelving units are finished with the highest quality epoxy hybrid powder coating, which ensures an attractive and uniform finish that is more durable, scratch resistant, and environmentally friendly compared to traditional liquid paint. Prior to painting, all parts are cleaned with an iron phosphate wash to ensure a smooth and durable finish. We offer an unparalleled selection of 9 vibrant color options to compliment any design, style, or environment. The finish colors available are Black, Light Gray, Medium Metallic Gray, Bone White, Tan Metallic, Sand, Tech Blue, Industrial Red, and Safety Yellow.
Straight Shelving
Our straight tier shelving systems are designed to maximize capacity with minimal floor space intrusion. The thin shelf-design eliminates wasted space between shelves, allowing for maximum storage capacity. Our Modular shelving system design allows individual shelving tiers to be stacked up to eight levels high. All tiers come with welded dividers for keeping files upright. Additional shelving tiers can be added at any time to increase file capacity.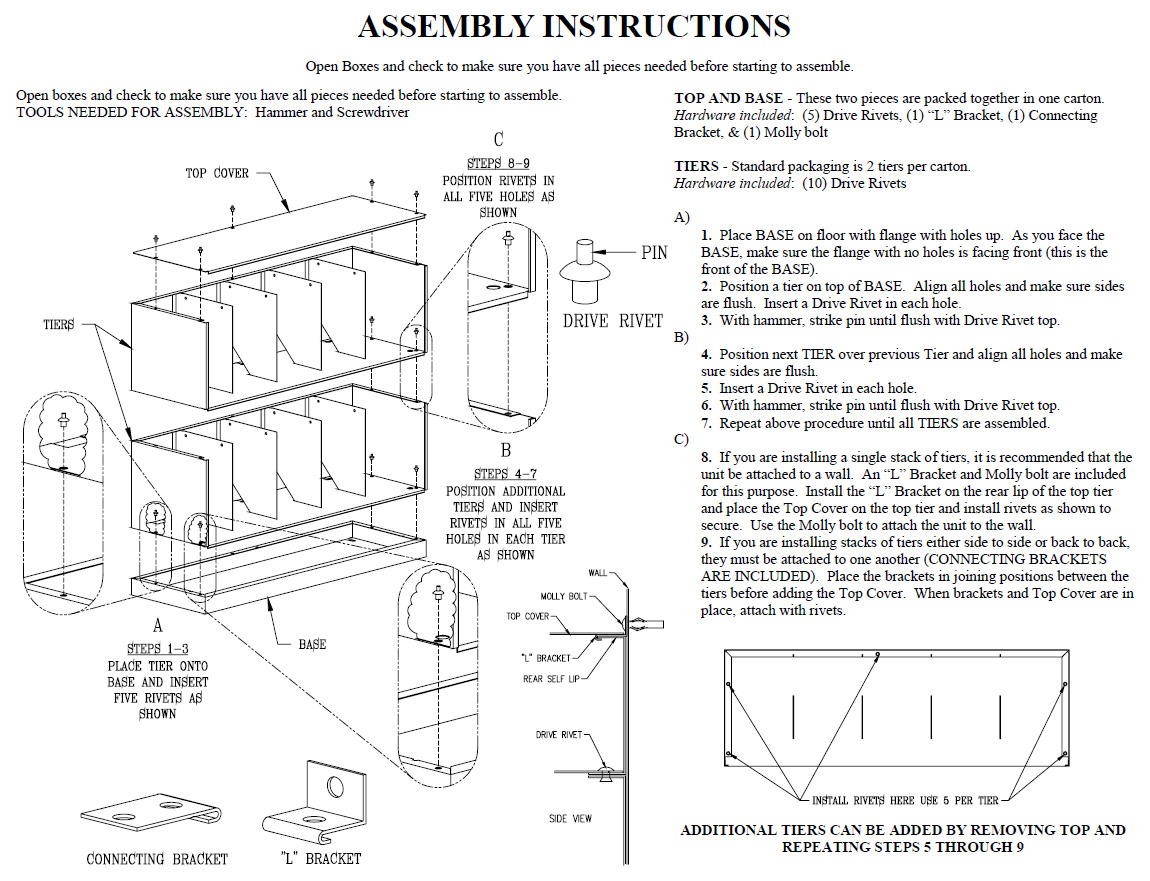 Assembly Instructions
Open boxes and check to make sure you have all pieces needed before starting to assemble.
TOOLS NEEDED FOR ASSEMBLY: Hammer and Screwdriver
TOP AND BASE - There two pieces are packed together in one carton.
Hardware included: (5) Drive Rivets, (1) "L" Bracket, (1) Connecting Bracket, & (1) Molly bolt.
TIERS - Standard packaging is 2 tiers per carton.
Hardware included: (10) Drive Rivets.
Place BASE on Floor with flange with holes up. As you face the BASE, make sure the flange with no holes is facing front (this is the front of the BASE).
Position a tier on top of BASE. Align holes and make sure sides are flush. Insert a Drive Rivet in each hole.
With hammer, strike pin until flush with Drive Rivet top.

Position next TIER over previous Tier and align all holes and make sure sides are flush.
Insert a Drive Rivet in each hole.
With hammer, strike pin until flush with Drive Rivet top.
Repeat above procedure until all TIERS are assembled.

If you are installing a single stack of tiers, it is recommended that the unit be attached to a wall. An "L" Bracket and Molly Bolt are included for this purpose. Install the "L" Bracket on the rear lip of the top tier and place the Top Cover on the top tier and install rivets as shown to secure. Use the Molly bolt to attach the unit to the wall.
If you are installing stacks of tiers either side to side or back to back, they must be attached to one another (CONNECTING BRACKETS ARE INCLUDED). Place the brackets in joining positions between the tiers before adding the top Cover. When brackets and Top Cover are in place, attach with rivets.
ADDITIONAL TIERS CAN BE ADDED BY REMOVING TOP AND REPEATING STEPS 5 THROUGH 9
Lead Time
These shelving units are made to order in the United States. The estimated delivery time is approximately 4 weeks from the time the order is placed.