Changeable Letter Sidewalk Signs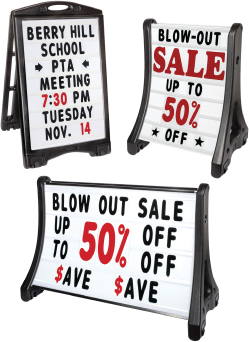 Our Changeable Message Sidewalk Signs allow you to change the message on your sign as frequently as necessary. These sandwich board signs are perfect for communicating messages that change on a frequent basis. For example, if you operate a restaurant and wish to display the specials of the day or an auto repair shop looking to promote discounts offered for the current month, these signs are a great solution. These are also great for Homeowners associations (HOA) who need to communicate changing messages to members of their community. Traditionally, companies are required to purchase a new sign for each message they wish to communicate with prospective customers; The changeable letter signs are a cost-saving solution since only one sign is required to communicate an endless number of messages. These signs are typically displayed outdoors along the road or sidewalk.
The signs are offered in different sizes and configurations, however, the basic construction of the signs remains the same across all models. Each line on the sign has a track that the letters and numbers can easily slide into to create your message. The signs feature a narrow depth, making them totally portable and easy to fit through door ways, so they can be moved inside and outside each day. These are constructed from a combination of steel and a very high-density durable plastic and can withstand winds up to about 30mph.
We carry several varieties of changeable letter signs, al of of which are proudly manufactured in the United States from the highest quality materials in the industry.
Sidewalk Signs - Sidewalk signs are designed to capture the attention of passerby's on foot, such as in urban environments in front of a store or restaurant, or directly in front of a business establishment to capture the attention of prospective customers as they enter the business. For example, a retail establishment may use these signs to draw attention to specials or sale items in the hopes of increasing sales. We offer three different styles of sidewalk signs, which include the Swinger-Plus, A-Plus, and QLA-Plus series signs. All of the signs are offered in with the standard lettering set that includes (314) 4" letter, numbers and symbols (black letters & red numbers) OR the deluxe lettering set, which also includes the additional (22) 8" jumbo numbers and (2) 9" double-sided headers.
Roadside Signs - The roadside signs are a larger sign, which features a 36" x 48" message board and larger 5" tall lettering which is designed to capture the attention of those passing in a vehicle. These are perfect for placing along the road to promote your business. Our roadside signs are readable from as much as 150 ft. away, while the traditional sidewalk signs are only visible from up to 50 ft. away. The roadside signs are offered in two varieties: Swinger-Plus and QLA-Plus, both of which are available with the standard or deluxe lettering package.
---
---
Create The Maximum Impact with Your Sign
For maximum impact, we offer the following recommendations when using our changeable letter signs:
Keep your message short, sweet, and to the point. Most passerby's will only be glancing out your sign for a moment as they pass by. Try to capture their attention with a brief and creative message that will make them stop.
Try using different messages on each side of the sign. This way potential customers will see one message coming and another going. For example, if customers pass your sign on the way to work they will get a different message on the way in versus on the way home.
When it comes to signs, bigger and bolder messages are better. You may have a great message, but it won't matter if your prospective customers can't read it!
Our Changeable Message Signs are designed to withstand winds up to 30mph. In the event of stronger winds, add sand or water to the hollow ballasts for added stability and wind-resistance.
Be creative - the most memorable messages are the unusual ideas that customers have never seen before. This is what will make your business stand out.
Superior Selection
Easily change the message on your changeable letter sign to draw attention to a sale, special item on the menu, or an important promotion. We offer a comprehensive selection of changeable sidewalk signs to meet the needs of any application! Our signs stand out from the competition for the following reasons:
Portability: All of our sidewalk and roadside signs feature built-in wheels, which make them easy to maneuver when placing them into presentation position and moving them into and out of storage. This is ideal for users who choose to move the signs indoors each night and return them outdoors at the start of each day, which prolongs the life of the sign and prevents theft or vandalism.
Selection: We offer a comprehensive selection of sidewalk and roadside signs with changeable messages, including our popular a-frame signs, swinger signs, springer signs, as well as the replacement letter and number sets, and much more.
Durability: All of our signs are designed and manufactured in the United States from durable, weather-resistant molded plastic with with built-in UV inhibitors. Simply put, these signs will last for many years of use outdoors in the elements.