Car Transport Wrap - Vehicle Paint Protection Film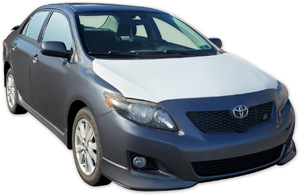 Car Transport Wrap is a temporary adhesive-backed plastic film, which can be applied to vehicles, RVS, boats, and much more to protect the factory paint and other exterior plastic and metal surfaces on new or recently-detailed vehicles from unwanted damage during production and transportation. This film is often purchased by auto manufacturers and other equipment manufacturers in large quantities to protect vehicles during transportation from the factory to the dealership. We also sell this protective film to automotive hauling companies and private individuals who are transporting their personal vehicle, as well as detailing companies and auto body shops also use this film to protect vehicles after their work is completed to ensure that the vehicle is returned to customers in pristine condition.
In particular, many of our customers are private individuals who purchase this film to protect their vehicle before contracting with an auto carrier to transport their vehicle across-the-country or overseas. Covering your vehicle in this protective covering is an inexpensive way to increase the likelihood that your vehicle will arrive to its destination in excellent condition and offers a safe-guard against automotive transport companies who do not always handle vehicles with the utmost care and concern.
When transporting vehicles by truck, towing cars behind motorhomes or rented U-HAUL trucks, vehicles are susceptible to scratches and damage from rocks, bugs, twigs, branches, toxic chemicals, oil drips, sand, and many more contaminants and abrasives that can damage the paint or finish of your vehicle.
Our vehicle transportation protective film is constructed from 2.5 mil coextruded self-adhering plastic that film is made from multiple layers for maximum strength, durability, and puncture-resistance. Competing monolayer products which are constructed from 1 layer are inferior to coextruded films. This film is utilizes a special solvent-based acrylic "cross-linked" adhesive that is anchored into the film, so that the film stays in place yet can be easily removed without leaving any residue behind when your vehicle arrives at the destination. We utilize a special type of modified acrylic adhesive, which has undergone extensive testing and is approved for use by many major auto manufacturers across the globe. We utilize UV inhibitor both in the adhesive and in the film itself, which offers protection from the sun's rays. Competing products without UV inhibitor will degrade within a few months, however, our film is designed to last, protecting your vehicle from the sun for up to 6 months! Moreover, many competing products will advertise that their film has UV inhibitor, however, they are often only referring to the UV inhibitor in the film itself - our film has UV inhibitor in both the adhesive and in the film!
Since 1982, we have proudly serviced the automotive industry with the finest quality supply products including car transport film at extremely competitive wholesale pricing. With the advent of the internet, we are now able to reach a wide range of industries including auto dealerships, car transportation companies, and private individuals who have a need for car transport wrap. We pride ourselves in having superior industry knowledge and look forward to working with you to find the correct product for your application. If you have any questions or need additional assistance, please contact us by phone, chat, or email.
---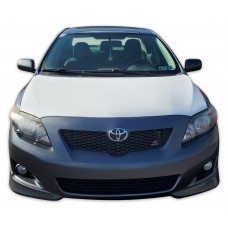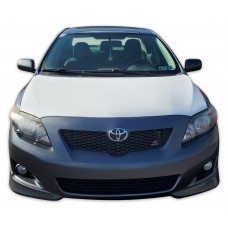 ---
How to Apply Car Transport Film
Our Car Transport film is designed to adhere to vehicle's exterior surfaces including metal, paint, and plastic. Application is as simple as applying a sticker! Simply roll the film onto the areas of the vehicle that require protection. If you wish to cover multiple areas of the vehicle or the entire vehicle, we recommend applying the layers so that they overlap along the edges. Many auto manufacturers use this film to protect the front bumper only, however, the film can be applied to all areas of the vehicle to provide total protection against damage. Some customers choose to apply multiple layers of film, which is an effective way to provide added protection. Our car transport film features an adhesive that is easily removable, so if you apply film to an unwanted area, simply remove and reposition. Once your car arrives at the destination, simply remove the film and your car should be good to go.
This film should always be applied to a clean surface to ensure proper adhesion. We generally recommend applying the wrap starting in the rear of the vehicle and moving towards the front, which prevents the edges of the wrap from coming loose during the transportation process as the vehicle is exposed to high wind resistance. The only exception to this rule would be if the vehicle is being loaded into the truck backwards, in which case we recommend applying the wrap from the front of the vehicle working towards the back. We also recommend that you avoid applying the film in high wind conditions whenever possible to prevent dirt and dust from becoming trapped under the film which could prevent proper adhesion and result in the film lifting during transport.
If you opt to cover the entire vehicle, make sure not to cover door openings, tail pipes, windows and windshields, and any necessary air intakes or other important mechanical components that could damage the vehicle if covered during driving, since the vehicle will need to be driven onto and off of the truck during the transportation process.
Headlight Protection
Please note that this film is not recommended for application onto newer vehicle headlights, which are made from a scratch resistant polycarbonate type of plastic. The adhesive on our car transport film could potentially damage polycarbonate light fixtures over time. If you are wrapping an older-model vehicle with glass headlights, the our film is safe for use, however, if you are not sure of the construction of your headlights, we do not recommend wrapping them.
Non-Automotive Uses
This film can be applied to a variety of solid smooth surfaces including steel, stainless steel, aluminum, wood, plastic, powder coated finishes, and much more. In addition to vehicles, our film works very well to protect boats, trucks, tractors, lawn mowers, vans, helicopters, air planes, air conditioners, pumps, electrical panels, heavy equipment, and much more!
Restrictions for Usage
Please note that in some jurisdictions, such as Hawaii, there are restrictions that prohibit cars from entering the state with the vehicle covered in adhesive wrap. The restrictions are put into place to prevent unwanted outside elements such as insects and plants from entering the state. Some automotive transportation companies also do not allow for customers to use car transport wrap since it could hide pre-existing damage/defects to the vehicle, which could result in unsubstantiated claims. We recommend making arrangements with the carrier to take pictures of the vehicle prior to wrapping.