Collision Wrap - Self-Adhesive Windshield or Wreck Wrap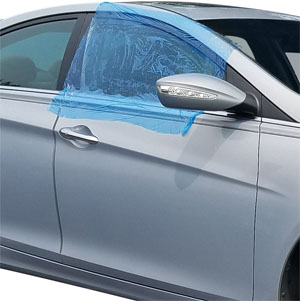 Self-Adhesive Windshield Collision Wrap is an adhesive-backed plastic film used to cover broken or cracked windshields and sprung doors, and to temporarily protect the interior of the vehicle from the elements such as rain, wind, sand, dust, snow, over-spray and more. The wrap stays in place until the auto body shop or collision center has repaired the damaged windshield, thus preventing unwanted and costly damage to the interior of the vehicle. Our film is designed to adhere to clean and dry surfaces including glass, metal, plastic, and interior surfaces such as fabric. Other names that refer to the same type of product are windshield wrap, crash wrap, and wreck wrap. We offer three varieties of self-adhesive windshield wrap to satisfy the needs of auto body shops, collision centers, towing companies, automotive salvage companies, auto dealerships, auto repair shops, private individuals, and much more.
Why Our Collision Wrap Is Superior
Our collision wrap is manufactured from the finest quality extruded plastic resins and pressure sensitive water-based acrylic adhesive available. When you purchase from MBR, you can be assured that you are buying a quality film with durable adhesives and consistent quality that will not damage your vehicle. Moreover, you can be confident that our wrap is manufactured with processes that take the environment into consideration. Compare our products to competing products with often offer inconsistent quality and are produced with much less eco-friendly manufacturing processes.
Durability - All of our car protection wrap films are made from Coextruded (COEX) self-adhering plastic films, which means they are constructed from multiple layers of plastic that are laminated together for maximum strength, durability, and puncture-resistance. Competing monolayer products which are constructed from 1 layer are inferior to coextruded films in terms of both performance and durability - do not be fooled by competitor's monolayer products that may be thicker than our films, but do not offer the same level of longevity! Our film will not rip or tear during application and small bumps in the road will not cause the film to break. With our durable film, you can drive or tow with the confidence that your vehicle is protected and that the seal created by our collision wrap is very strong and weather-resistant.
High Tack Adhesives - All of our crash wrap films are manufactured with high water-based acrylic adhesives. We coat our films with more adhesive compared to the competition, which makes all of our films "High Tack". The high adhesion properties of our collision wrap makes them effective for auto body shops and collision repair shops as well as towing companies and auto salvage companies who need a film that is strong enough to adhere to dirty cars.
Will Not Damage Your Vehicle - Our films are constructed with high quality adhesives that are "anchored" into the film, which means that our films stay in place, yet can be easily removed without leaving any residue behind! Be wary of competing films that leave residue behind after removal!
Superior Selection - We offer the most comprehensive selection of collision wrap in the industry, which includes blue and clear high tack films which are sold in 3 different sizes of rolls (24" x 100', 36" x 100', and 36" x 200'). Our unmatched variety of roll sizes allows you to choose the correct size film for any application, which prevents waste and helps you achieve a clean and professional finish. The 24" x 100' rolls are the best option if you require only a small amount of film and are looking for the most budget-friendly solution. The 36" x 100' size is the most popular choice. The 36" x 200' rolls are the best choice when you are looking to purchase a large quantity of film. When purchasing the 200 ft. rolls, we offer a discounted price on the film and there is also a cost savings in shipping one larger roll that only requires one box, as opposed to shipping two individual rolls, each of which requires its own box. Our collision wrap is sold on un-perforated rolls that can easily be cut with a knife or razor blade to any size to meet the needs of your application.
Competitive Prices - For over 30 years, we have specialized in servicing auto dealerships, auto repair shops, auto body shops, and the auto collision industry with extremely competitive wholesale pricing, which includes substantial discounts on large quantity orders. With the advent of the internet, we are now able to reach a wide range of industries including automotive salvage yards, towing companies, and private individuals who have a need for collision wrap and who are able to take advantage of our extremely competitive pricing.
Customer Service - We pride ourselves in having superior industry knowledge to the competition, which comes from over 30 years of experience in this industry. If you have any questions or need assistance in choosing the correct collision wrap for your application, please reach out to us by phone, chat, or email. We look forward to working with you to meet the needs of your specific application.
---
---
Un-Paralleled Selection of Collision Wrap
3 Mil Clear Collision Wrap w/High Tack Adhesive is an ultra-durable 3 mil thick clear adhesive film with a high tack adhesive and an extremely competitive price. The transparent-quality of this film offers enough visibility that a vehicle or other damaged equipment can be driven until it is repaired and is also advantageous when you need to see into the vehicle through the film. This is the most popular choice amongst auto body shops and collision centers, yet it still features a strong enough adhesive to adhere to dirty cars by towing companies and salvage yards. This wrap is rated for up to 3 months of use and is constructed with a durable water-based acrylic adhesive.
2.5 Mil Blue Tinted Collision Wrap w/High Tack Adhesive features an ultra-aggressive water based acrylic adhesive which is the preferred choice of automotive salvage businesses and towing companies, since this film will adhere to vehicles, even when they are very dirty, yet the film can still be removed without leaving any unwanted adhesive residue behind. This film is rated for up to 3 months of use. The blue tinting is the ideal choice when you do not want to be able to see into or out of the vehicle, and also offers added protection against sunlight.