Punchable Key Tags, Preferred Customer Loyalty Key Fobs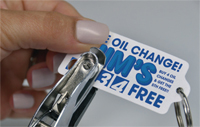 Our punchable key tags are constructed from a thin yet durable plastic material and then are custom printed with your company name, logo, and/or message. These can be used as an inexpensive keychain or can be printed with icons to serve as locations for hole punches that will keep your customers coming back time-and-time-again. We offer two popular constructions of punchable key tags and membership cards.
Poly Laminate Punchable Key Tags - Poly Laminate Key Tags are printed on a white 10 mil tear-resistant plastic and then over-laminated on both sides with 5 mil or 10 mil clear material. The finished product is either 20 mil or 30 mil thick. This is our most cost-effective option. The minimum quantity for this product is 250pcs. With poly laminate key tags, we can bleed the imprint off the edge of the key fob without any concerns about ink chipping.
Polyethylene Punchable Key Tags - Polyethylene Punchable Key Tags are constructed from 23 mil polyethylene film, which is durable enough to withstand the rigors involved in daily keychain use, yet still is thin enough to be punched with a hole punch for customer loyalty programs. These key tags are constructed from solid plastic and therefore are the most durable option. The minimum quantity for this product is 125pcs. We recommend leaving a 1/10" gap around the edge of these key fobs, rather than bleeding the imprint off the edge to prevent ink chips along the edge.
Implement a Loyalty Program at Your Business!
In addition to our standard punchable key tags, we also offer punchable key tag membership card combinations, which are constructed from our poly laminate material. These are a great option since they allow for customers to keep one card on their keychain and one card in their wallet. The membership card key tag combs work well with barcodes or sequential numbering so that the customer's transactions can be tracked since the hole punches cannot be recorded across multiple cards and key tags.
These imprinted key tags reward frequent business and the loyalty of your customers. Each time a customer frequents your business or purchases a particular product or service at your establishment, they are rewarded with a punch in their card. After the customer reaches a pre-determined number of punches they win a prize or discount. These personalized keychains can be used across a variety of industries including auto repair shops, auto dealer service stations, car washes, barber shops, grocery stores, nail salons, grocery stores, pharmacies, and much more. Some ideas that customers have used our key tags to build loyalty include:
Buy 4 oil changes and get the 5th free!
Earn a free car wash after purchasing 4 at regular price.
Purchase 5 hair cuts at regular price and get the 6th cut free!
Every 5 rounds of mini gold, get the sixth half off.
Use these to build morale amongst service technicians at your auto repair shop. Every time a mechanic up-sells a repair of a certain dollar amount, they are rewarded with a punch. After a pre-determined number of punches they win a prize specified by the manager.
The purpose of distributing promotional keychains is to build brand awareness and hopefully get customers to return for future business. The problem is that customers have many options when it comes to selecting a key chain. Incentivizing customers with the promise of a reward for frequent business serves two purposes:
The frequent use card directly causes customers to use your services more because they are rewarded after multiple trips to your location.
Since the customer wants to earn the reward, they are more likely to keep the key tag, thus they will see your name every day and will remember you when they need to use your services or when a friend or family needs a recommendation of a service provider.
These key tags are 100% Made in the United States and are offered in an array of stock sizes for your convenience. Our most popular shapes are the Rectangle with Tab, Round Oval, Car-Shape, and Oblong key tags. If you do not see the shape you are looking for, we can customize these in any shape at no additional charge. The Poly Laminate Key tags can be produced in any shape up to 3.5 square inches, while the polyethylene key tags can be produced in any shape up to 5 square inches.
---
---
Advantages of our Personalized Punchable Key Tags:
100% Made in USA - quick turnaround time.
Our stock shapes are larger then the competition - More imprint area for your company name.
Full color imprint with no limitation on the number of colors.
State of the art digital printing equipment creates a durable and vibrant custom imprint that will last.
Modern & secure website make ordering easy and painless, however, if you need assistance, we are always available by phone, email, or chat to help you choose the right product for your application.