License Plate Envelopes & Protectors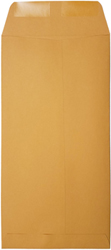 We carry a comprehensive selection of License Plate Envelopes, which are used by auto dealerships to mail license plates and other important paperwork to customers. We offer blank License Plate Envelopes, pre-printed envelopes which contain lines for the return address and recipient's address, and can also custom print the envelopes with your auto dealership's name, logo, return address, and any other personalized information required. License plate envelopes measure 13" x 6-1/2" and are sold in packages of 100. We carry both white and brown kraft varieties of envelopes. The brown kraft variety are the most popular style and are sometimes also referred to as "manila," while the white envelopes are the preferred choice when custom digitally printed envelopes are needed since the white color contrasts well with multi-color custom printing. We carry envelopes in both the standard "Moist Seal" variety and the newer "Self Seal" style:
Moist Seal Envelopes - These envelopes feature an adhesive gum strip which is activated by applying moisture (generally by the user licking the envelope). This is the most popular and economical option, however, they are not the most hygienic option since licking is required.
Self Seal Envelopes - This type of envelope features a removable strip which backing exposes the pressure-sensitive adhesive. Self seal envelopes are more sanitary and have a stronger bond compared to moist seal envelopes, however, they also produce an extra piece of strack (the peel-off backing).
In addition to our license plate envelopes, we also offer a selection of license plate protectors which are made from clear plastic and are designed to protect temporary license plates from the elements. Regardless of your needs, choosing the best license plate envelope or protector may be an overwhelming process. If you need assistance, please feel free to reach out to us by phone, email, or chat, and we will be happy to help.
---
---