Tamper Proof Key Rings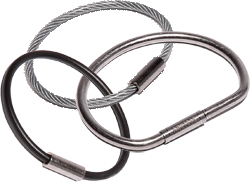 Our Tamper Proof Key Rings are manufactured in the United States and are designed to ensure that when a set of keys or another item is checked out, they are not changed or tampered with before they have been returned safely. Each key ring is laser engraved with a unique and permanent serial number that provides an audit trail and cannot be opened and closed without detection. If any changes have been made, they will be easily detected by the broken seal or non-matching serial number. Compare our key rings to inferior products that are stamped with the serial number, which rubs off. The laser engraved number is designed to last as a true security mechanism.
Our key rings are manufactured from industrial grade stainless steel and are offered in both flexible and solid varieties in 5 sizes. The solid tamper proof key rings are made from solid stainless steel, while the flexible key rings are constructed from stainless steel braided cable for maximum security and durability.
These can be used in a variety of applications including securing keys, key cabinet key tracking, tools, medical equipment, cash bags, or securing any valuable item that requires close monitoring. The solid rings are more industrial looking and are the strongest tag, while the flexible rings offer the advantage of being less rigid and more malleable.
The Serialized Tamper Proof Key Rings must be used with our Crimper & Cutting Tool for Solid Tamper Proof Key Rings, which is designed to crimp together these rings utilizing our "Slide and Crimp" technology. This tool, which is sold separately, is also a high quality cutter, which saves time and money on additional expensive tools.
We also offer our Flexible Nylon Coated Cable Key Rings which are a good option if you are looking for a less expensive solution. These key rings are sealed closed with our Crimper Tool for Permanent Flexible Cable Key Rings and offer a permanent secure closure, however, do not include the unique serial number. These are used across an array of industries including hospitals, municipalities, government agencies, hotels, and much more.
If you have any questions about selecting the correct key ring, please reach out to us by phone, email, or chat. Our business is geared towards selling large quantities of these at bulk wholesale pricing and we take great pride in helping you find the right key rings at the lowest price possible.
---
---
An Extra Layer of Security
Tamper-Resistant Key Rings are constructed from solid stainless steel or aircraft cable and allow for keys or other valuable items to be locked onto the ring, preventing reopening so that key security and control can be maintained. No weak or bulky plastic joints. Each ring has its own unique serial number and can only be re-opened by cutting, which allows for detection if a key ring is altered. Common Names used to describe this product are Temper-Proof Key Rings, Tamper-Evident Key Rings, and Tamper-Resistant Key Rings.
All of the key rings in this category are one-time-use for security. Once they are permanently sealed with our crimping tools, they can only be re-opened by cutting. This is the only way to truly provide the security and guarantee required in most industries to ensure that keys or other valuable items are not tampered with. Any product that is marketed as re-seal-able or reusable is inherently insecure. These key rings are used across many industries including: Corrections, Government agencies, Casinos, Cruise-lines, Education, Energy, Automotive Fleets, and much more.
Five Different Sizes
These durable key rings are offered in 5 different sizes to meet your needs whether you need to hold a large or small number of keys: 1", 1.5", 2", 3", & 4" diameter rings are available.
Color Code Your Key Rings
We offer flexible plastic rings that slide around the tamper proof key rings to provide color coding. Each production line, division, or team can be signified by a different colored band. These bands are sold in packages of 50 and are offered in your choice of five colors: black, blue, green, orange, red, yellow, and a multi color pack which includes 10 of each color.
Increased Control Saves You $$$
Your company or organization can save money by using tamper proof key rings by preventing costly theft and tampering before it happens. Psychologically, the serialized, permanently sealed key rings send a signal to potential wrong-doers that they are being watched and monitored which prevents tampering because it increases the social cost of tampering with the keys.