Key Lock Boxes for Auto Dealers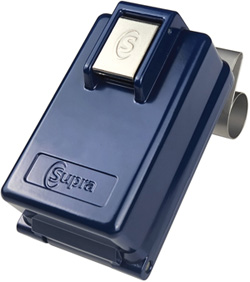 Our car key lock boxes are designed to be mounted on the side windows of vehicles with a sturdy stainless steel window clip, providing easy access to the car keys which are stored inside of the box. Each lock box on your car dealership's lot will be keyed alike so that salesmen and other personnel will be able to conveniently access any car on the lot with one key. No more fussing around looking for keys; Your salesmen will be able to quickly access vehicles for the all-important test drive and close the sale faster. These are also a time saver when vehicles need to be moved around the lot.
We are the leading authorized distributor of Supra Lock boxes for auto dealerships in the United States. Our most popular key box is the Supra Indigo which is made from a super light-weight aluminum alloy and offers the largest storage capacity of any lock box on the market. The Indigo features an easy-close system which makes accessing vehicles quick-and-easy. The Indigo key box conveniently hangs on the window of a vehicle via a secure stainless steel clip which is securely riveted to the back and features durable high density foam padding to prevent damage to the vehicle's window. The Supra Indigo Key Boxes are available in the standard-size and the XL-size. The standard size Indigo box is appropriate for most car dealerships, while the XL-size is designed to hold more keys and larger keys. Both the standard and XL-size Indigo boxes are available with your choice of a standard hanger, an extra large hanger, or a flexible stainless steel cable hanger. The standard length hanger is the appropriate for most vehicles and is the preferred choice for most car and truck dealerships, while the XL hanger is 2 inches longer and is recommended for use on taller trucks and vehicles where rain shields are installed on the side windows. The The Supra Indigo boxes with the flexible stainless steel cable hangers are used when hanging a key box on a car window is not practical such as with taller vehicles, or on RVs where side-sliding windows are present.
The proximity shields are specially designed to fit inside the Supra Indigo box and allows you to store the keys safely by blocking the signals from the smart keys and keyless ignition systems. We offer standard-size and XL-size proximity shields to fit both the standard and XL Supra Indigo Key Boxes.
When price is the most important concern, we offer our economy lock boxes which are an entry-level system that is made of a strong alloy with an inside waterproofing seal. This is a basic no-frills key box that gets the job done.
Please note that all of our lock boxes are sold for convenience, not for security.
---
---